I have seen several posts lately about toddlers being picky when it comes to eating and I have to say, I'm so glad mine isn't the only one! Ethan started out being a fantastic eater. He loved practically everything, well, except zucchini and mashed potatoes. At this point in life I really can't get him to eat much more than fruit and dairy with a side of carbs every now and then.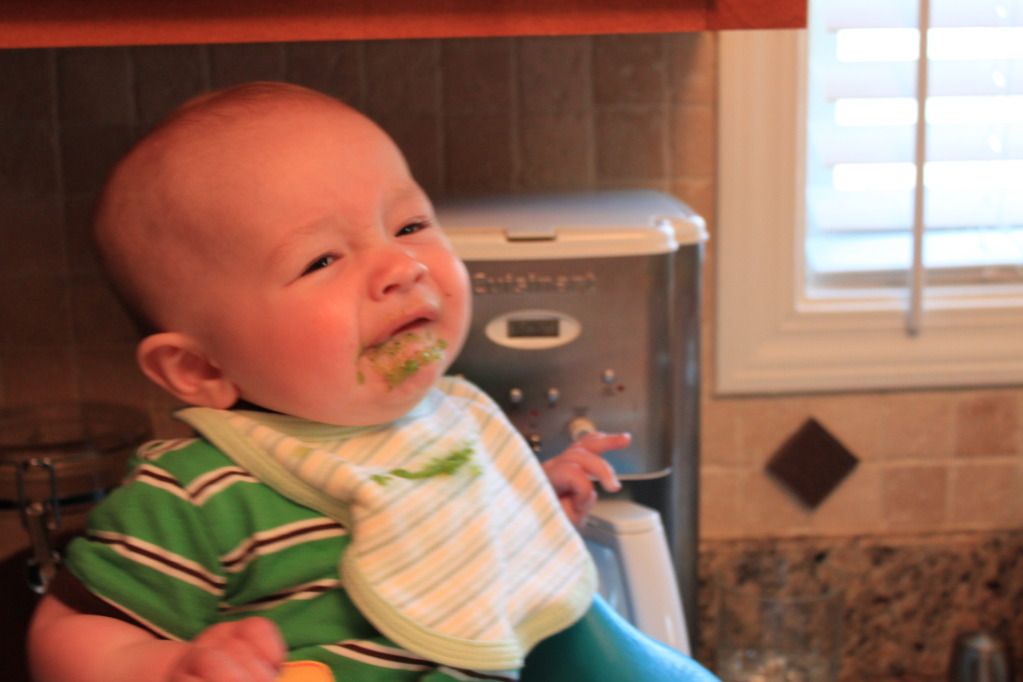 Flashback: The zucchini disaster of 2011.
I don't really care if he eats meat or not at this point. I figure he will grow into it at some point and if he doesn't there are ways around it, but the lack of vegetables in his diet is really bugging me. Not to mention that a diet consisting of all fruits and dairy is hard on his system and my nose if you get what I'm saying.
My other issue is that I feel like he wants to eat ALL.THE.TIME. When exactly did my baby become a teenage boy??? I'm constantly racking my brain for something else to feed him besides what he constantly asks for..."berries". I mean come on, you can't eat "berries" for every single snack and meal right? Right.
So, last weekend while we were at the store I found something that I could finally give him that contained vegetables, but tasted like "berries". A miracle I'd call it.
I know, it's green, but surprisingly he didn't even hesitate. It's got all kinds of goodness in there just check out the ingredients and boosts here. They have a couple of other veggie smoothies in the line that we haven't checked out just yet, one to get your reds in and the other that is more your yellow/orange veggies. I plan on getting those soon.
Now that he is into drinking these, I'm more seriously contemplating a blender to make my own at home. To be honest, my husband and I probably don't always get all the fruits and veggies we need either and this seems like such an easy and great tasting way to do it! Do any of you make veggie smoothies? If so do you have blender recommendations. Mine bit the dust quite awhile ago and it seems like every blender out there has mixed reviews...I'd love to hear your thoughts. I was contemplating the Kitchenaid Blender
but I'm still not sold yet!
What sneaky ways do you get veggies into your toddlers diet???