After months of preparation, I can proudly say that Ethan's party was a huge success! I'm so excited to share all of the pictures and details with you all!
I know people might wonder why in the world I would do all of this for a one year old that will never remember the party, so I'll go ahead and demystify you! Simply, I think that the first year is a huge year full of changes both for the little one, the parents and other close family members. I wanted to celebrate everything that has happened as well as thank all of our close friends and family for their help and support they've provided during Ethan's first year of life.
Party Details
When I started thinking about Ethan's first birthday party I knew I had to include his favorite colors, yellow and orange. I also knew I wanted to make most everything by hand because that's the way I show my love and oh what love I have for this little one! I decided not to include any other sort of character/theme for simplicity and besides, at one he's really not interested in much besides lots and lots of milk! I'm sure there will be numerous character themed parties in our very near future.
Even though he has a fall birthday, I kept the main colors bright and happy balanced by the neutral tones of Kraft paper and burlap accents. I found a lot of my inspiration through Pinterest and just had to try my hand at the colorful poms and pennant banners. I found scrapbook paper on sale at local craft stores as well as I stocked up on the perfectly colored tissue paper and ribbon. I also was determined to have some sort of photo backdrop. This is where 300 balloons and a couple of lucky family members came in!
I made the invitations using Microsoft Word, Kraft paper and card stock. I also made address label wraps again using my own computer and label paper. I ordered stamps from the USPS to match the color theme (God forbid something clash!). One of the most mentioned decor items was the set of photo strips hung behind the lemonade bar. Super simple and cheap to do using curling ribbon and a hole punch.
Set the Table
I knew I wanted a sit down dinner for the party immediately, because that's just the way I do things. I borrowed tables and chairs from my mother-in-laws church and after looking at the cost of renting table linens, I decided it was more cost effective to buy my own. Honestly, it was the exact same cost and let's face it we've got a lot more birthday parties in our future so the investment will pay off. Also an investment...real plates. I found white plates at a local discount store for $2 a piece and just mixed those in with some I already owned. I also used my own silverware and borrowed lots and lots of white and clear glass serving pieces from my mom. The real stuff looks so much better than paper and plastic right?
As for the table decor, I purchased a roll of Kraft paper from Amazon for the table runner and purchased the mason jars which doubled as my place cards from Target. I bought the striped straws, made my own name tags, tied a ribbon around them and declared them festive. After deciding I was maxed out on crafty projects I had my mom create my vision for the centerpieces. She used foam board to make the boxes and then covered it with left over fabric from Ethan's onesie and party hat. We used Spanish moss and florist foam to hold the lollipops in place.
I made the cutlery packs based off an inspiration from Etsy. I almost caved and bought them but after finding out it was going to cost me $100 to buy the package that went with them I quickly reconsidered. So glad I did because it was so simple to do myself. I simply used printer paper, circle punches, leftover Kraft and construction paper, and a napkin to jazz it up. Simple and basically free!
Food, Drinks and Sweets
Again, I found it cheaper (but definitely not easier) to do everything myself when it came to all the food. My husband grilled two Boston Butts the day before the party and I slaved away at the rest of treats the whole week prior! Recipes for all the tasty treats and eats are linked below.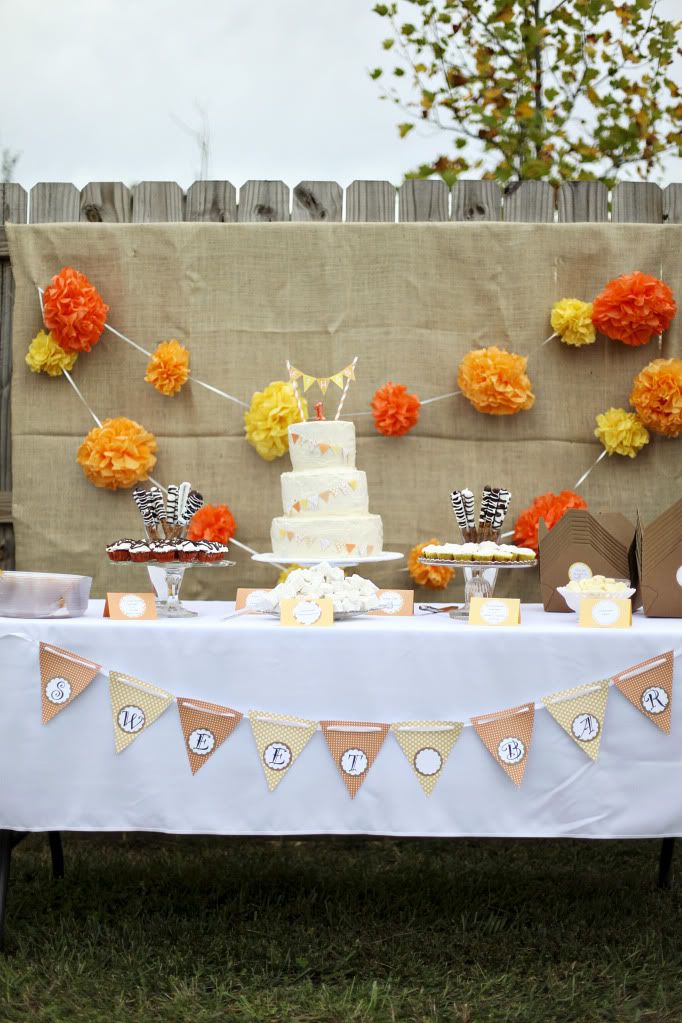 Can I just say I'll forever kick myself for not ironing all the burlap?
One of my favorite parts of the party was the Lemonade Bar. I decided to offer lemonade and tea because they went with the color theme (tea can be considered orange right? Right.) I decided to amp up the fun factor by including mix-ins of various fruit, cranberry juice, as well as vodka and whisky for the adults. I bought wooden frames at a craft store for under a $1 a piece and printed recipes for mixing ideas including Vodka Collins and Whiskey Sours as well as Arnold Palmer and other non-alcoholic suggestions. I was if-y about including alcohol for a 1 year old's birthday party but most of the attendees were adults. I decided to mask the alcohol by putting them in pretty glass swing top bottles so the Lemonade Bar didn't scream...well..bar.
The Birthday Boy and Friends
Ethan had 4 little friends in attendance all 2 and under. I knew they would probably be happy just running around outside and really that's mostly what they did! I put together simple favor boxes using items from the Target $1 aisle. I made sure to include bubbles so parents had entertainment options. I also had some sidewalk chalk outside, but the kids had too much fun playing with each other and taking wagon rides to even notice! I also had empty boxes for the adults to take home leftover treats for their favors because I certainly didn't want to get stuck with all the leftovers!
As for Ethan's outfits I had a dressy longall made from an Etsy seller for his traditional one year session photos and my mom made a onesie for him to wear at the party. I crafted a party hat using left over fabric, felt, and tissue paper. One regret is that I totally forgot to put it on him for his cake smash. Oh well. He probably wouldn't have kept it on anyways!
Vendors
eFavorMart - Tablecloths
Oriental Trading Company - Lollipops
Garnish - Favor Boxes
The Party Fairy - Striped Straws
The Royal Princess - Ethan's Longall
JHenderson Studios - Photographer
Recipes
Homemade Marshmallows
Melt in your Mouth Mints
Roasted Banana Cupcakes - Martha Stewart Cupcakes
Double Chocolate Orange Cupcakes
White Cake with Lemon Curd Filling
Fresh Orange Cake with Apricot Mousse
Swiss Meringue Buttercream