It's that time of year again where Shutterfly is giving away free Christmas cards!!! Who's excited? You should be! Because, three lucky readers will win 25 free Holiday cards of their choice.
First I'd love to show you my card from last year...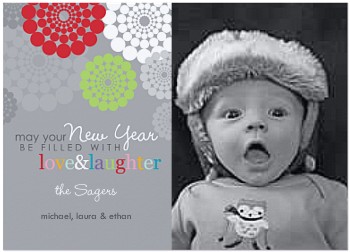 I can't tell you how many compliments I've had on it and how many people surprisingly still have this up on their fridge! I'd like to think this is mostly due to the precious little boy on the card, but let's face it...the cute card design doesn't hurt!
Now to tempt you just a little bit more, here is a look at three of my favorite cards from this years selections!
Chevron is huge this year so why not use it on your Christmas cards too?
Maybe you like something a little more classic like this one?
You can also find other holiday cards like Thanksgiving (for the over achievers) and New Years (for the procrastinators...aka me!).
Be sure to check out their photo gifts page for more Christmas options like canvas prints, gift tags, and personalized notepads!
I promise you can't go wrong with Shutterfly they are truly a joy to work with! I know I'll be enjoying my free cards this year!
Ok so here is how you can get yours....
3 lucky winners will be chosen at random for a coupon code for 25 free 5x7 holiday cards of their choosing. The code needs to be used by 12/31/11 to be valid.
Please leave a comment tell me what you did for each entry! I'll post the winners on Monday, October 24th!
Mandatory Entry: Be a follower of this blog through Google Friend Connect.
Follow My Thoughts-Uninterrupted on Facebook
Tweet about this giveaway!
PS....
Are you a blogger? Want a chance at 25 free cards this holiday season? Register here: http://goo.gl/DDw7Q
If you are a blogger and win one of these free codes you could potentially have 50 free cards! Yay for saving money right?