This past weekend was my family's annual Pig Roast. We had an amazing time and it was fun getting to share it with Ethan for the first time (almost second since I was 3 weeks away from delivering him at last year's roast).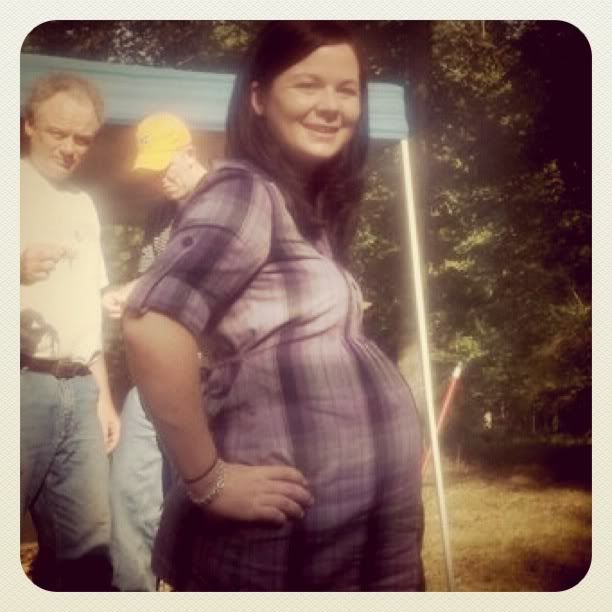 He had an awesome time watching everyone pick the pig (sorry if there are vegetarians reading, this post probably isn't for you).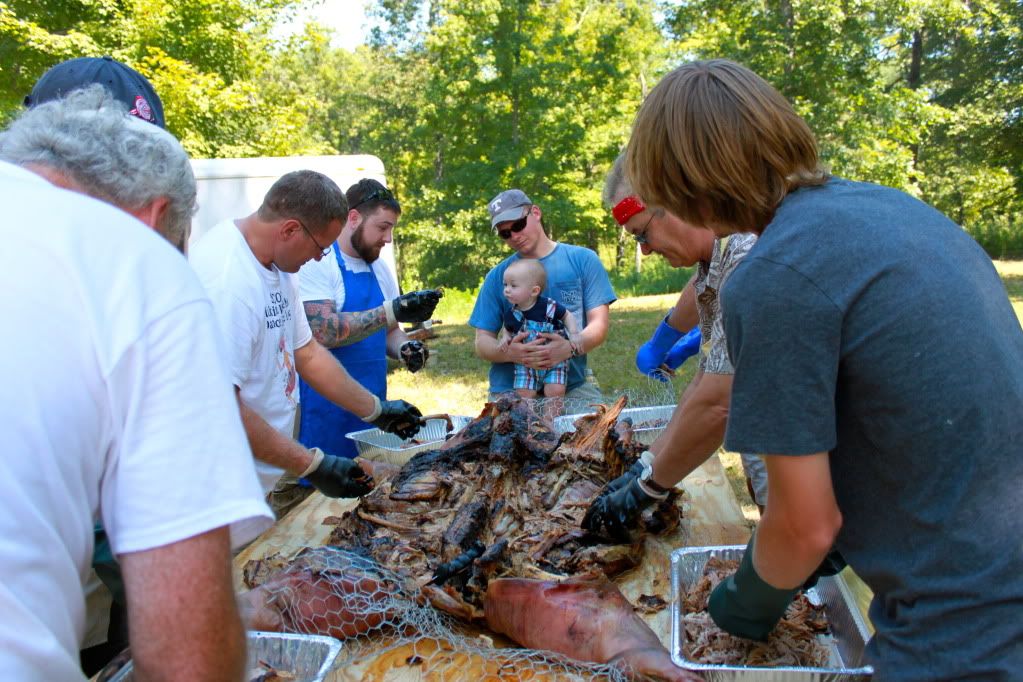 He also thoroughly enjoyed some watermelon straight off the rind. In fact he face planted into it and didn't come up until it was almost all gone!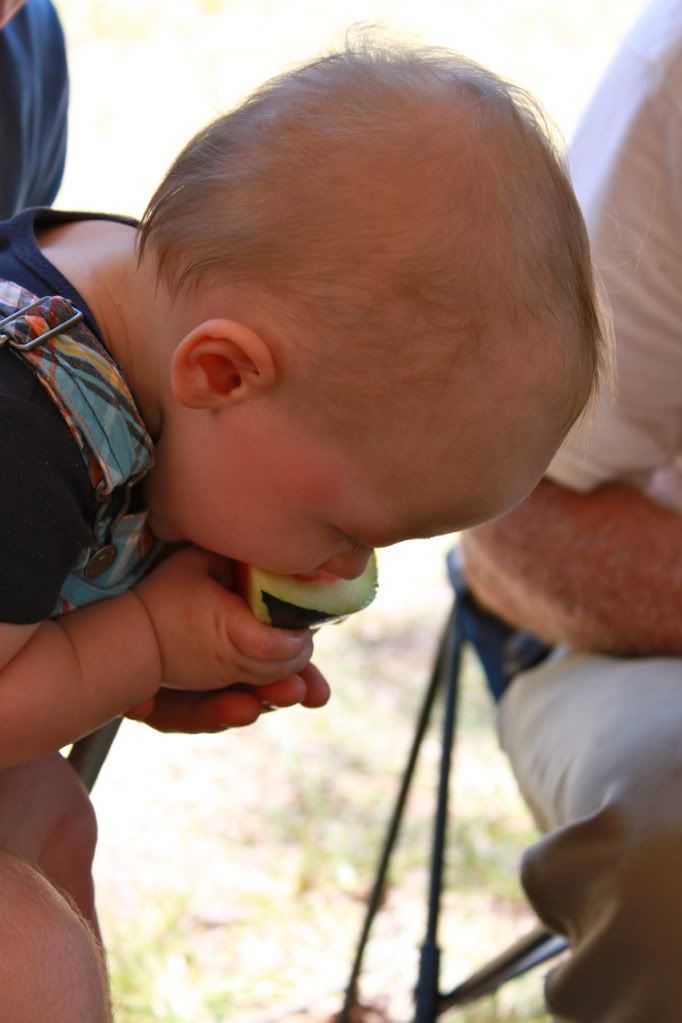 There is always a party the night before and most of the men stay up all night to finish roasting the pig. Ethan and I delivered Pumpkin Spice Muffins to them the next morning to reward them for their efforts. Unfortunately we were a little slow arriving so most of them had already eaten, but the good news is that we got to bring some muffins back home with us. And let me just say....they are scrumptious!
I have had a few people ask me for the recipe so I thought I'd post it here. I found it through Pinterest and it happens to be a Pioneer Woman recipe. If you want more detailed instructions with fabulous pictures, click here
to visit her site.
Muffin Ingredients:
1 cup All-purpose Flour
1/2 cup Sugar
2 teaspoons Baking Powder
1-1/2 teaspoon Cinnamon
1/4 teaspoon Ground Ginger
1/2 teaspoon Nutmeg
1/2 teaspoon Salt
4 Tablespoons Butter, cut into pieces
1 cup (heaping) Pumpkin Puree
1/2 cup Evaporated Milk
1 whole Egg
1-1/2 teaspoon Vanilla
1/2 cup Golden Raisins (optional!)
Topping Ingredients:
2 Tablespoons Sugar
1 teaspoon Cinnamon
1/4 teaspoon Nutmeg
Frosting Ingredients:
1/4 cup Softened Butter
4 ounces, Cream Cheese
1/2 pound Powdered Sugar
1/2 teaspoon Vanilla
Preparation Instructions:
Preheat oven to 400 degrees. Generously grease 12 muffin tins.
Sift flour, sugar, baking powder, cinnamon, ginger, nutmeg, and salt. Cut in butter with two knives or a pastry blender until it is fully incorporated. In a separate bowl, mix together pumpkin, evaporated milk, egg, and vanilla. Pour pumpkin mixture into the flour mixture. Add raisins. Fold gently until mixture is just combined.
Pour into a greased muffin pan—batter hardly ever fills all twelve unless you keep it down to 1/2 full. Sprinkle with remaining cinnamon-sugar-nutmeg mixture over the top of each unbaked muffin.
Bake for 25 minutes. Allow to cool in pan for 15 minutes, then remove and allow to cool. Ice with cream cheese frosting.
To make the frosting, mix all ingredients on high until soft and whipped. Spread onto completely cooled muffins, or place into a large pastry bag with a large star tip and go crazy! Store in the fridge, as icing will soften at room temperature.
This recipe is Ethan tested and approved!