Penne Pasta with Kale, Bacon & Sun-Dried Tomatoes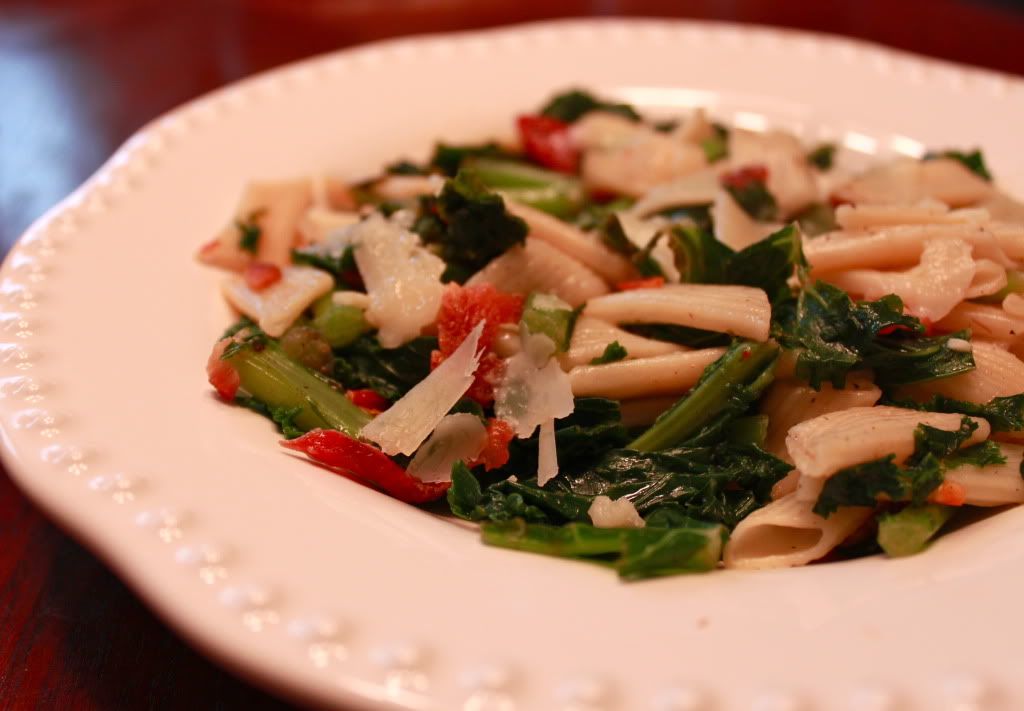 I know some of you are saying "Ewww Kale!". Seriously, it's good. If you can do spinach, you can do kale, especially in this recipe. It's heavily flavored with yumminess. Plus, everyone needs some hearty greens!
Ingredients
5 cups bagged pre-washed kale
1/4C oil-packed sun-dried tomatoes, drained and chopped
1/2t crushed red pepper (might want to decrease this for the kiddies)
3 large garlic cloves, chopped (fresh not jarred, there is a flavor difference)
1/2t freshly ground black pepper
1oz fresh Parmesan, shaved (I promise it's worth the cost to buy the wedge)
Directions
Cook the pasta as directed but add in the kale for the last 2 minutes. Drain in a colander, reserving 1/2C cooking liquid. While pasta is cooking, cook bacon in a skillet until crisp. Remove, crumble, set aside, keeping bacon grease in pan. Reduce heat to medium-low and add sun-dried tomatoes, crushed red pepper, and garlic to drippings. Cook 1 minute, stirring frequently. Add pasta mixture, reserved cooking liquid, salt and pepper to pan; toss to combine. Top with bacon and cheese; drizzle with lemon juice.