As soon as Erin posted her Home Organization Notebook, I knew I had to make one! I've finally gotten to the point where I know what works for me and my family and what doesn't and really that's what organization is all about. What works for

you

!
I'm a list maker and an organizer. Before I had this notebook, sticky notes and little piles of things were everywhere. It was a tad ridiculous. Now I have a place for everything! Yay!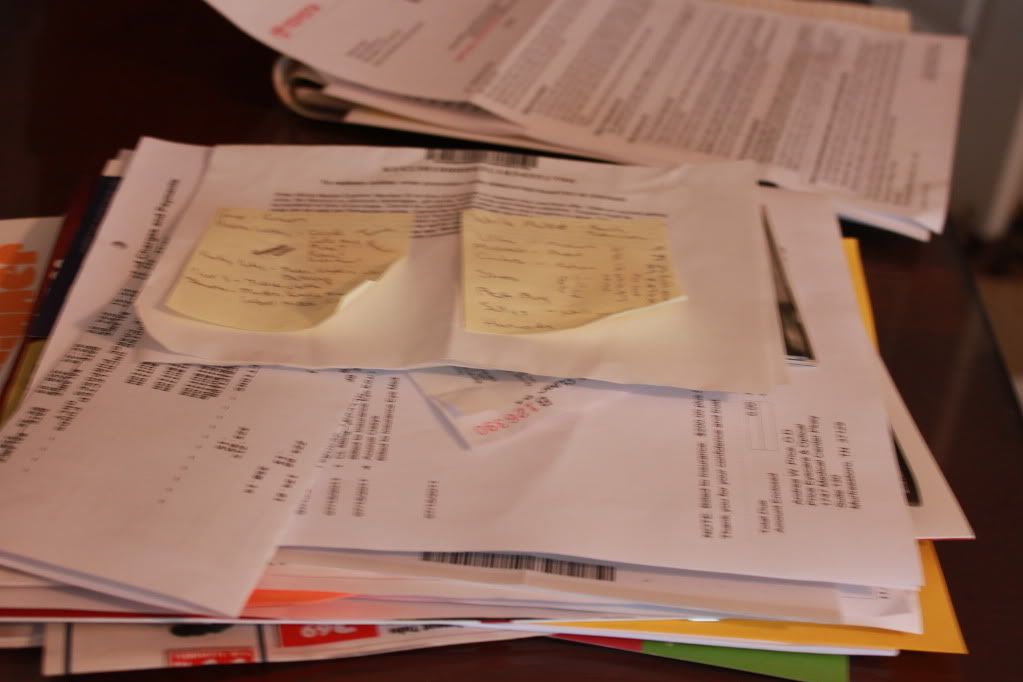 Please tell me you have piles too?
So here's the notebook I got from Target. It's a 1.5in binder which I think is the perfect size. I still need to make something cute for the outside...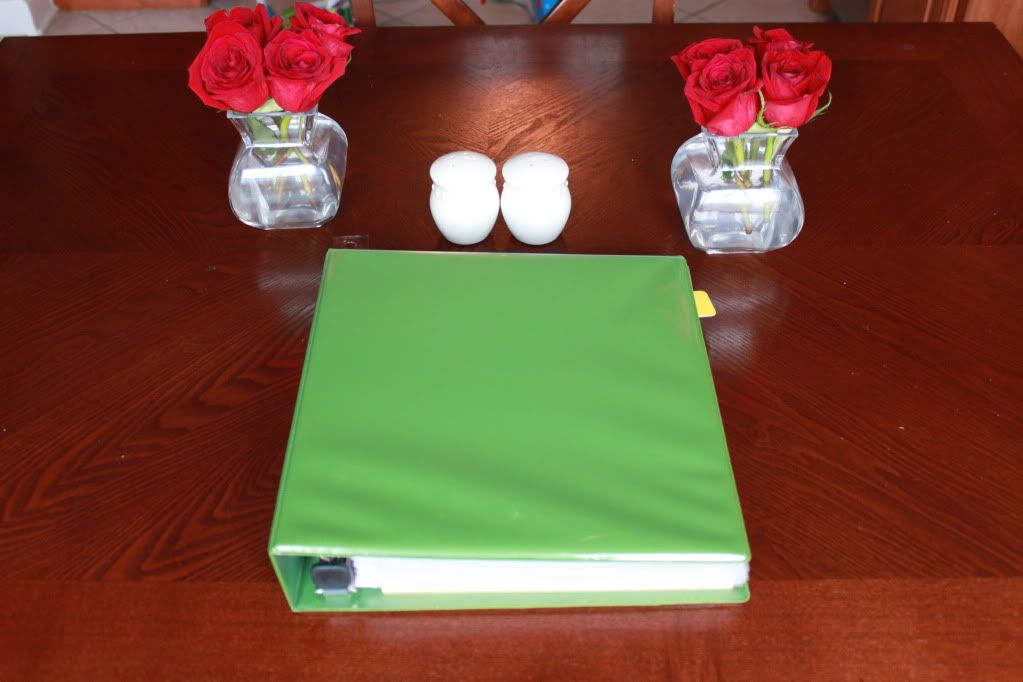 As soon as I open it I find all the little tools I use through out the day. My favorite pens, a pencil, a calculator, highlighters, and a ruler. All that's missing is a pair of scissors and some dry erase markers...
I have all the sections printed on my dividers which are unfortunately hidden by my page protectors...why don't they make dividers a little bigger? My sections are...
- Housework
- Meal Planning
- Budget
- Projects
- Blog
- Nag List
- Checklists
- Gifts/Holidays
- Important Info
I'm actually going to cover my Housework and Meal Planning in another post (or two). Those sections are too large to explain at the moment, but I do think they are worth sharing because let's face it....that's a big part of this SAHM gig. So you'll have to come back for those ;)
Skipping forward.....
I haven't filled out the budget section just yet, but I'll share the worksheets that I plan on using...
I've got two monthly spending worksheets. One is for our goal sheet and the other is for me to record our actual spending. The next sheet is to track annual spending on the bigger stuff like insurance and medical stuff.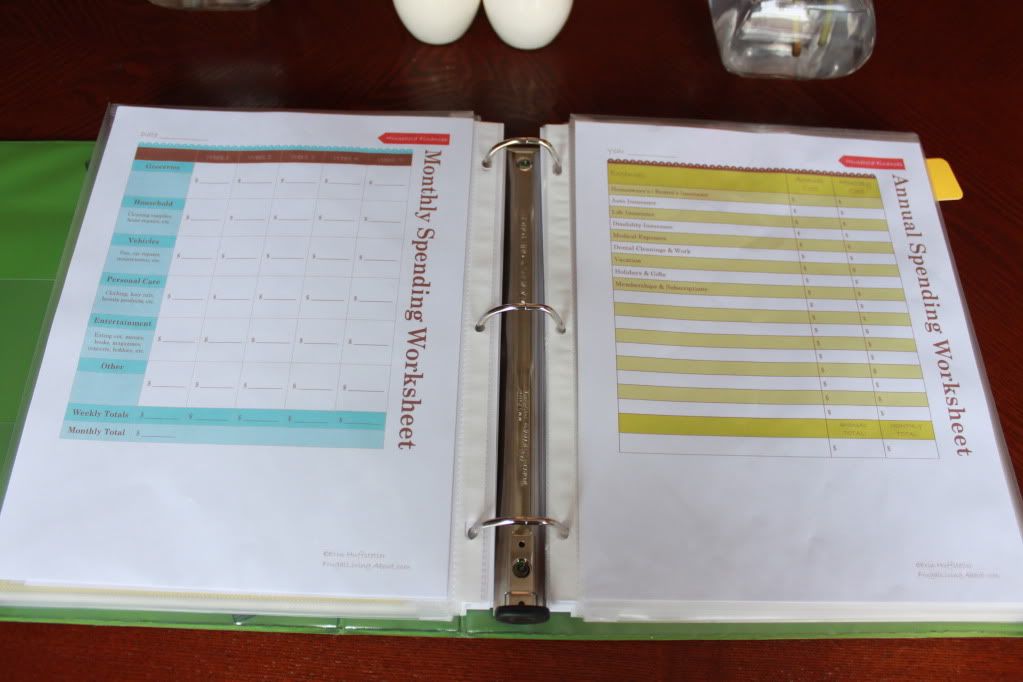 I also included a Quarterly Assets Tracking worksheet. Anyone else not remember how much is in their 401K???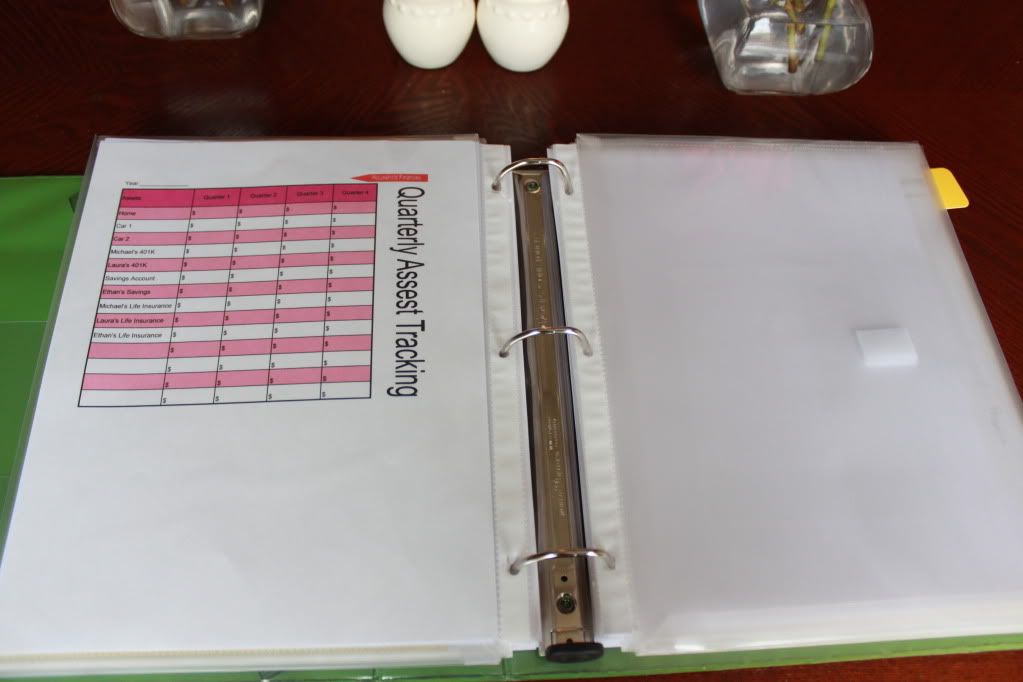 I made this worksheet myself. It's nothing fancy, but if you want it I will send it to you!
I also included a folder here so that I can stash all things budget related here until "File day Friday".
My next section is for projects. I basically just have a bunch of sheet protectors stashed here so I can throw things in them to keep it organized. I also have colorful paper clipped tabs on the side to divide up my projects...
Sneak peak at Ethan's b-day invites that need to be reprinted due to a misspell...grr!
I have a place for project "things to do" lists....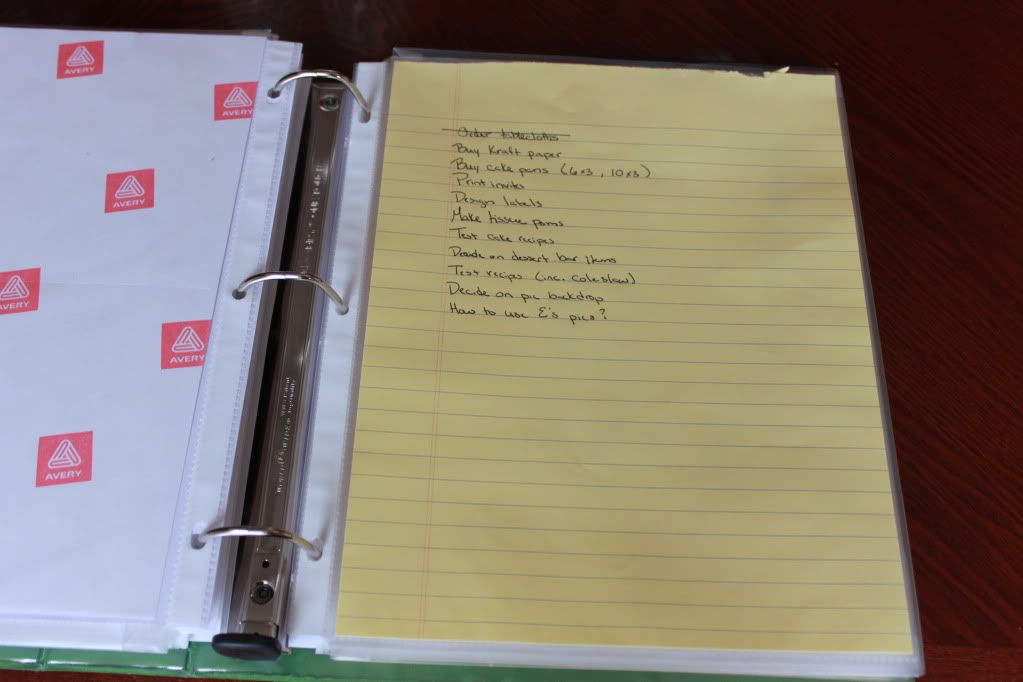 There is another folder at the back of this section to stash invoices and other loose project info that will need to be filed one the project is complete.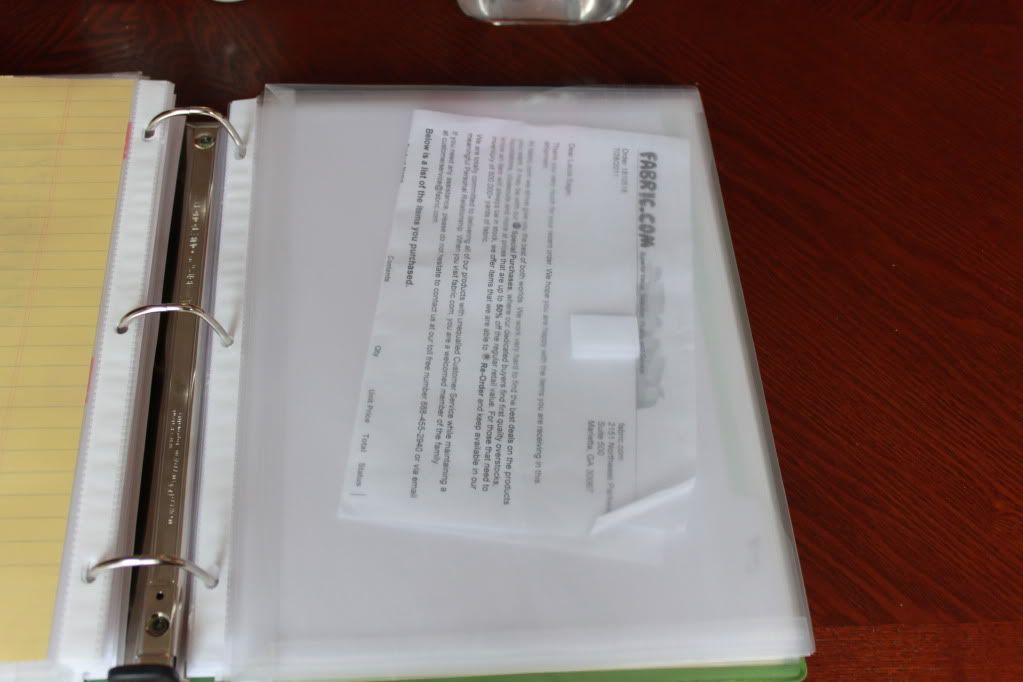 I'm thinking about adding some sort of budget sheet here too so I can keep track of project spending.

Next up for my blog section I found a worksheet to plan upcoming posts which will hopefully get me more organized around here.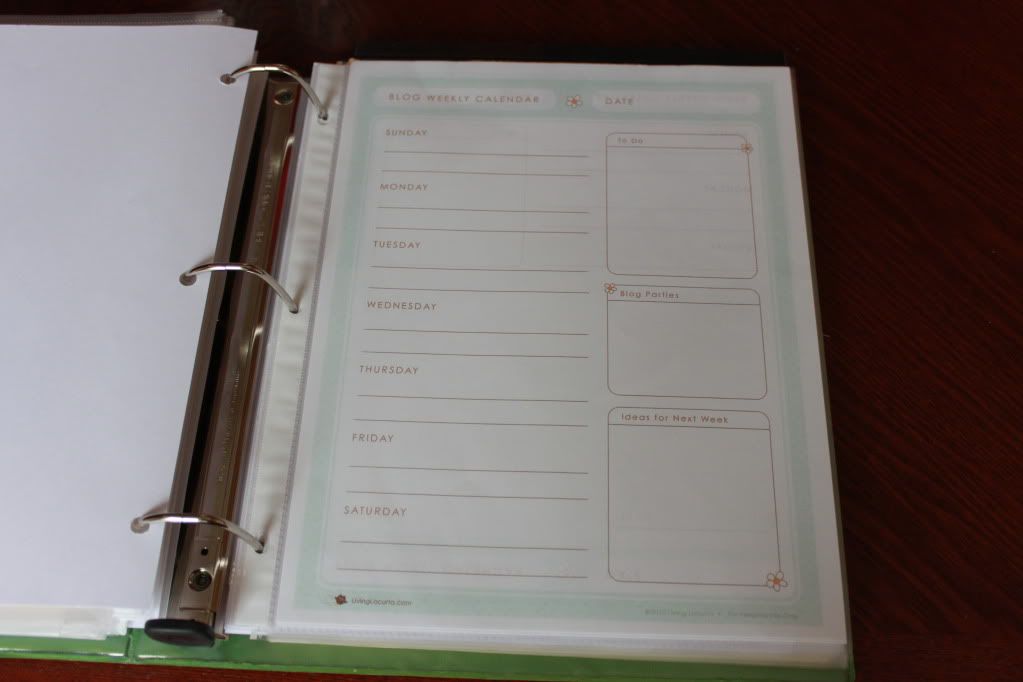 Remember those dry erase markers I mentioned I needed? Well a teacher friend recommended instead of printing multiples of this particular sheet I could just fill it in with a dry erase marker on top of my sheet protector and wipe away when it's a new week. What a green idea!
My favorite section is next....the Nag List!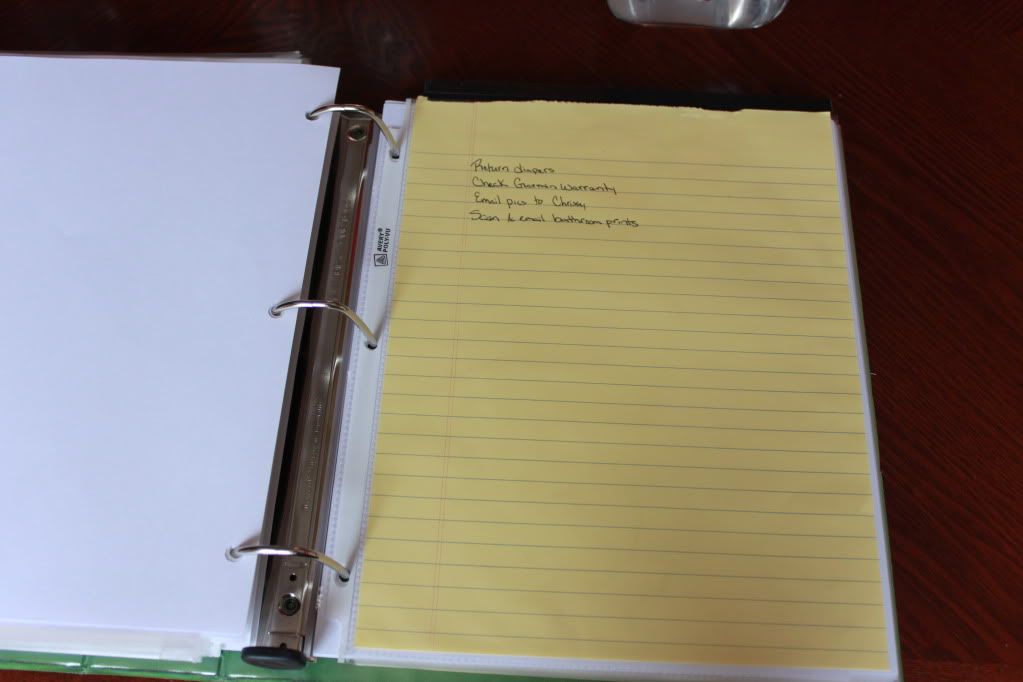 Yep, it's just an on going list of all the little annoying things that pop into my mind that for some reason never get done (like shipping returns, refilling soap dispensers, etc). You know, the stuff that pops into your mind before you go to sleep at night!
Next up, the check list section! This will mostly be used for vacation planning and where I will keep all of the documents and information that goes along with it. It also includes a packing list sheet!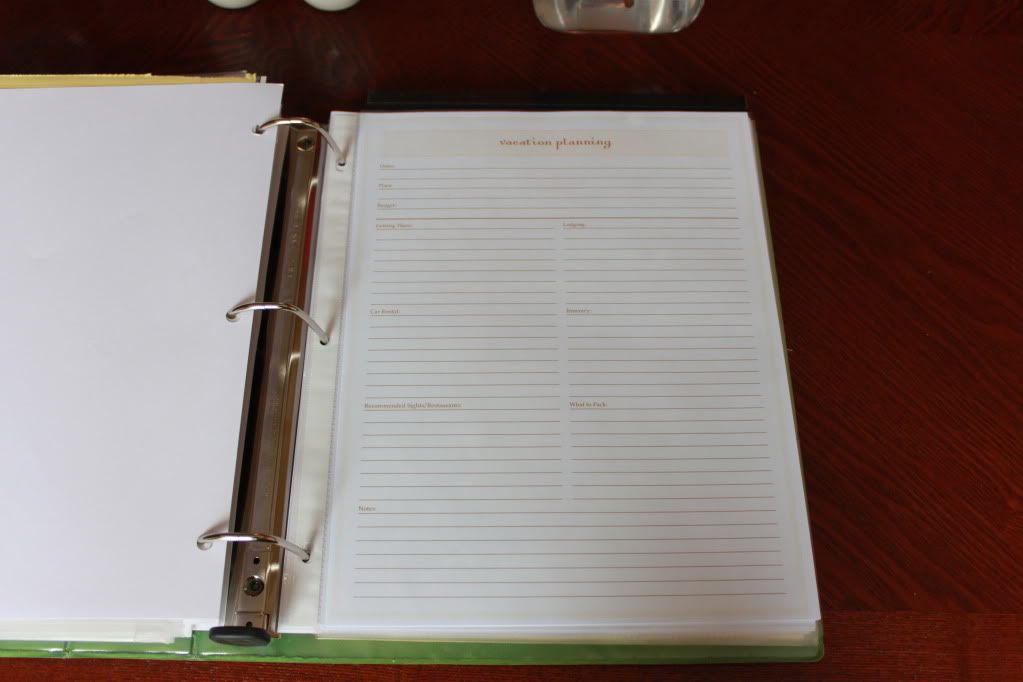 The next section is something I never would have thought of so all credit goes to Erin for this one. The gift/holiday section.
There's a birthday/anniversary list....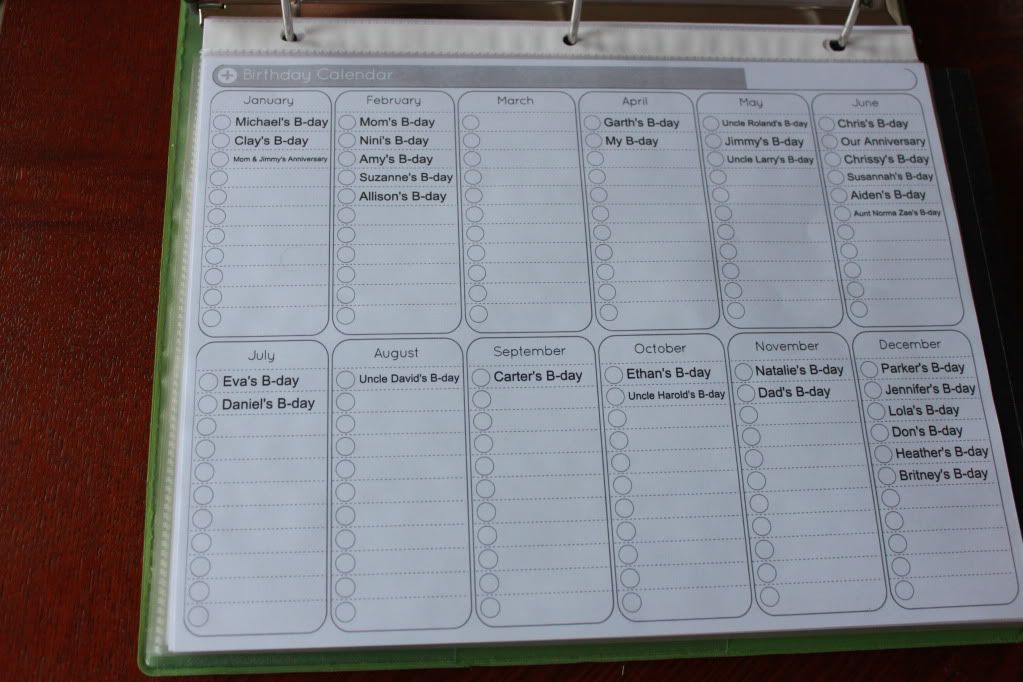 A gift idea sheet (also made by me) and a
sent and received Christmas card section which will be helpful each year when I can't remember who all I need to send cards to!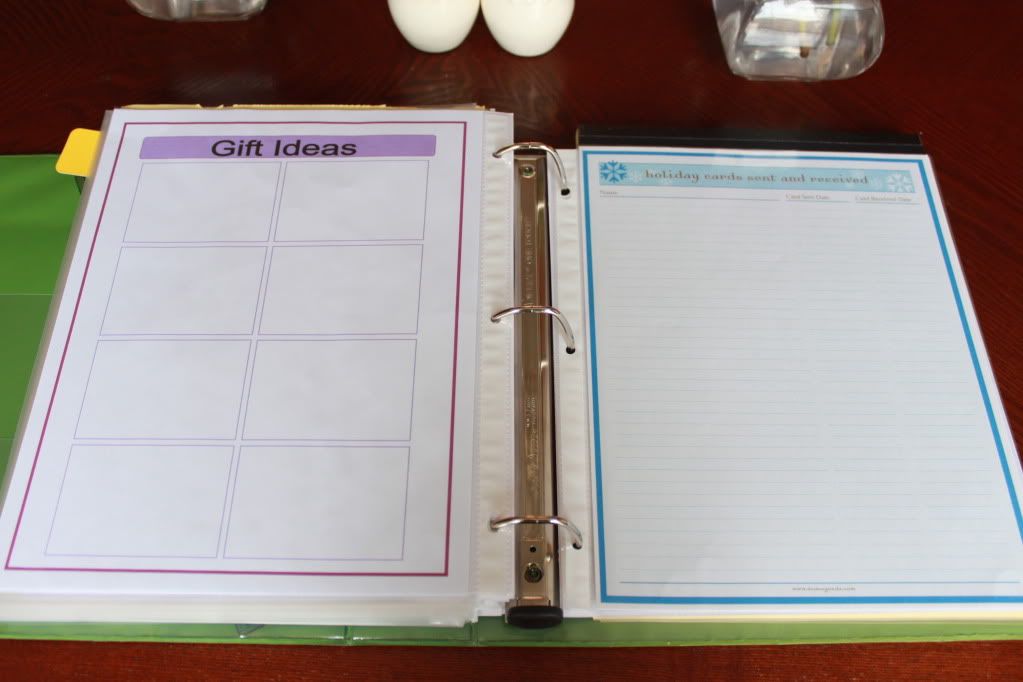 And finally a holiday gift list that tracks your spending so I don't blow my budget!
The final section is my important info section which currently houses my website login/password info (safe, I know).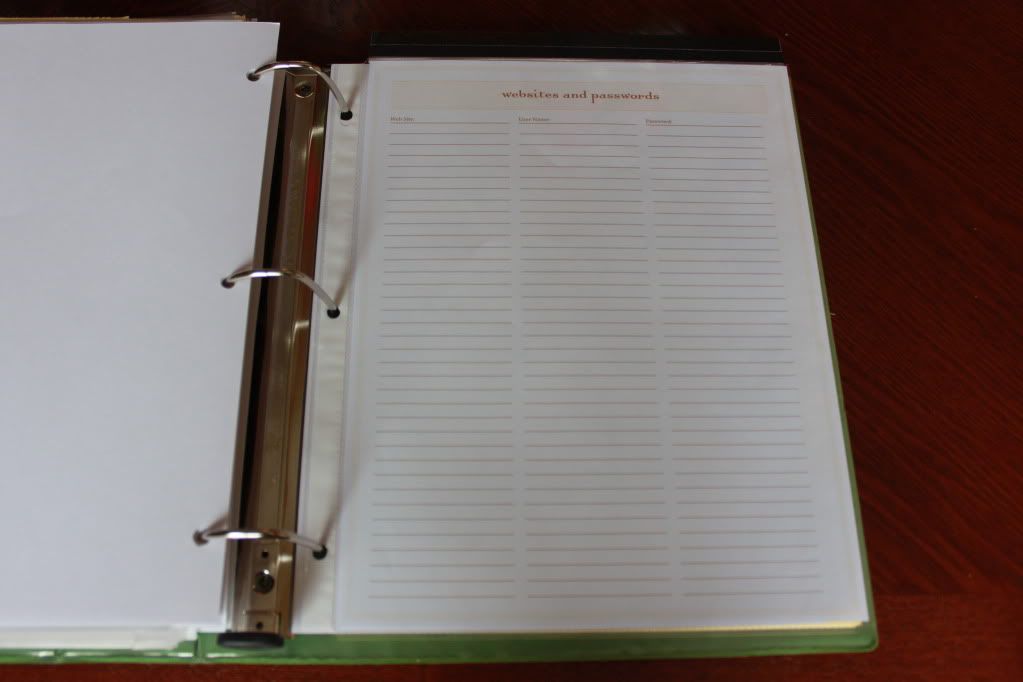 And to close it out...I included a notepad in the back!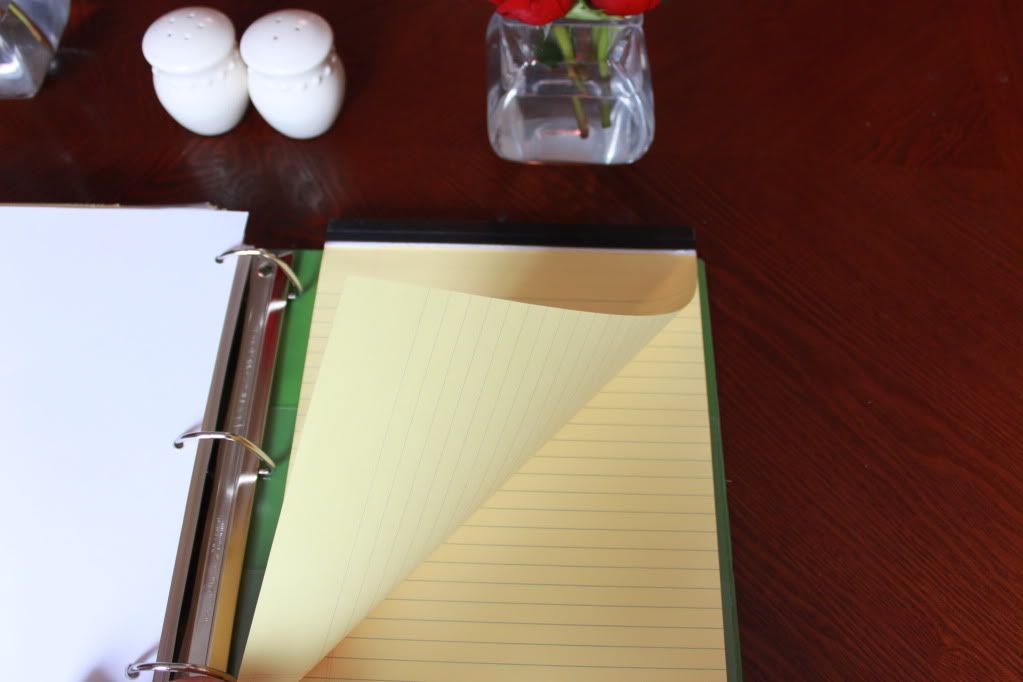 Come back tomorrow and Monday to checkout my meal planning and cleaning sections.
(Printables can be found at the following sites: The Project Girl, Frugal Living, Living Locurto)
**Update: Here is the
link
to the Housework Tab and the link to the Meal Planning Tab***
Please take a second and hit the "Like" button...