Apparently, I've given myself some grace in the blogging department, but here I am. Hello. I always have such a hard time bouncing back from breaks and honestly we are just now getting back into the swing of normalcy around here. But that's okay...just practicing some more grace in life right?
I think I mentioned this in my last post, but I decided that this year I would join in on the Project 365 fun on Instagram. You can follow me here. I'm not sure how often I will link up on the blog, but today seemed like a good day to have a picture filled random post so here is what we have been up to so far in 2014...
1/365
I woke my husband up 20 minutes before this picture was taken at midnight. Approximately 5 minutes later he puked

(and it was not from having too much fun)

. Yep, that's how this household rings in a New Year....with sickness. I'm holding out hope that it was just left over sickness from 2013. Fingers Crossed.
Besides that little detail we had a very wonderful New Years Eve. We took both boys to see Frozen. They were entranced the whole time. Ethan was caught up in my Sour Patch kids (and the singing) and Jackson was mesmerized by the large bag of buttery popcorn. Although I much would have seen American Hustle or Saving Mr. Banks, I have to say I really enjoyed the movie. We even braved dinner after the movie and I couldn't have been more pleased with the way the boys handled it all. Yay for getting out again!
2/365
This little guy has been doing more and more walking lately and he is completely obsessed with apples! Really, food in general is an obsession at this point. He is now officially our number one beggar and he has some pretty stiff competition. We had our one year appointment yesterday and finally this guy is in the clear growth-wise. Height and weight are both over 40% and his head is still ginormous at 78%.
3/365
We have decided to continue with the Emeals program this year. We have been doing the clean eating plan and I love how easy meal planning has become. We are still struggling with managing a grocery budget though! This week will be our first week trying out the low-calorie and comfort food menus (the comfort food is per request of the husband). I'm hoping these might be a tad less costly, but we will see.
4/365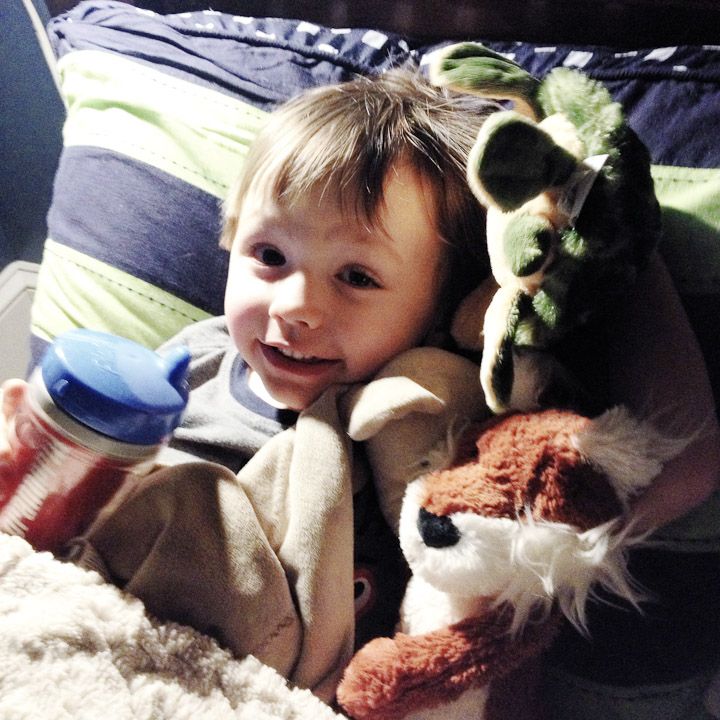 Ethan is now obsessed with having all kinds of things in his bed with him. We are up to 3 "blanks", a fox**, an "Ellie", a turtle and various bears. This is why I have a fairly strict "please no stuffed animals as gift" rule. These were all preapproved gifts by the way ;). I know, I suck. But seriously, he carts everything downstairs in a crate everyday and most of the time requires multiple trips or assistance. It's getting out of control.
**And yes, we are OBSESSED with "What Does A Fox Say?". He almost knows all the words and even has a book.
5/365
One of my goals this year is to find more one on one time with Ethan. I get to spend special time with Jackson while E's at school, but honestly I hardly ever get any one on one time with Ethan. This has got to change. I miss being fun and silly with my boy. Not that we can't be fun and silly with Jackson...it's just different. I'm spread thinner, more distracted. We need our special time. So when we got a chance to go to the grocery store by ourselves, I let him do something he always begs me to do...push the cart. Watch out folks! We are dangerous both to other shoppers and our grocery budget. I'm pretty sure I came home with at least 5 items I had no recollection of putting in our cart.
6/365
Jackson is in teething hell right now. Scratch that. We are all in teething hell right now. My beautiful, angel of a sleeper is now a party animal who refuses to go to sleep and won't even settle for being rocked or held. He has had 6 teeth for the longest time, but now has at least 4-5 more coming in all at once. I recently got him some teething tablets and one of those crazy, magic bead necklaces is on it's way to our front door. *Hangs head in shame.*
Oh hey, did you know last week it snowed and was really freaking cold? Yeah...it even made it's way down here to Tennessee and we enjoyed it for all about 5 minutes. Anything below 30 degrees is entirely too cold for me. Please never make me move north. That statement was probably the kiss of death.


7/365
Not only am I not prepared for cold weather, neither was our house apparently. While I love having snow for a short period of time because of its beauty, I could do without the cold that comes with it. We had a busted pipe causing water to spill out of ceiling in the bedroom and one heating unit stopped working on us all in the same day. Thankfully our downstairs unit held strong and we all just piled into our warm, yet leaky bedroom. I am super thankful to God that everything was resolved the next day with very little impact to our wallet thanks to a handy husband.
While the experience was annoying, it did remind me of how lucky we are to have the simple things like a warm, dry house that can weather out the cold. I really feel for families less fortunate than us that can't afford to keep their heat running for days or don't have enough coats for their children when in-climate and unusual weather strikes. The experience was a little reality check for sure.
8/365
If you pretend I am on central time, then I made this picture just in the nick of time to count for day 8. I thought this project would be a snap, but turns out sometimes it is hard to find beauty or something interesting in a typical normal day. I'm thankful that this project is going to stretch me in that aspect.
9/365
Yesterday was the first day in what feels like 3 weeks that actually was normal. I was needing that so much. Ethan headed back to school, Michael actually left the house for work and Jack and I had a couple of errands to run. It felt so good to be back on track!
As always, I appreciate your support. Thanks for over 200 likes on Facebook. Totally amazed...