This is the final Home Organization Notebook post...promise! If you want to catch up check out part one and part two.
Today we are focusing on the largest section of my notebook which is the Meal Planning tab (hope you hang with me!). When I pictured what our family would be like when we had kids, I envisioned family dinners together. I have to admit that until July, I did a really crappy job of feeding my family.
I was so over tacos and pizza (not that there is anything wrong with that from time to time!) but it was time to get back in the kitchen and cook some of our old favorite recipes as well as try out some new ones. It was time for a plan...
A monthly meal plan! I know...it sounds ambitious, but honestly it's made things SUPER easy.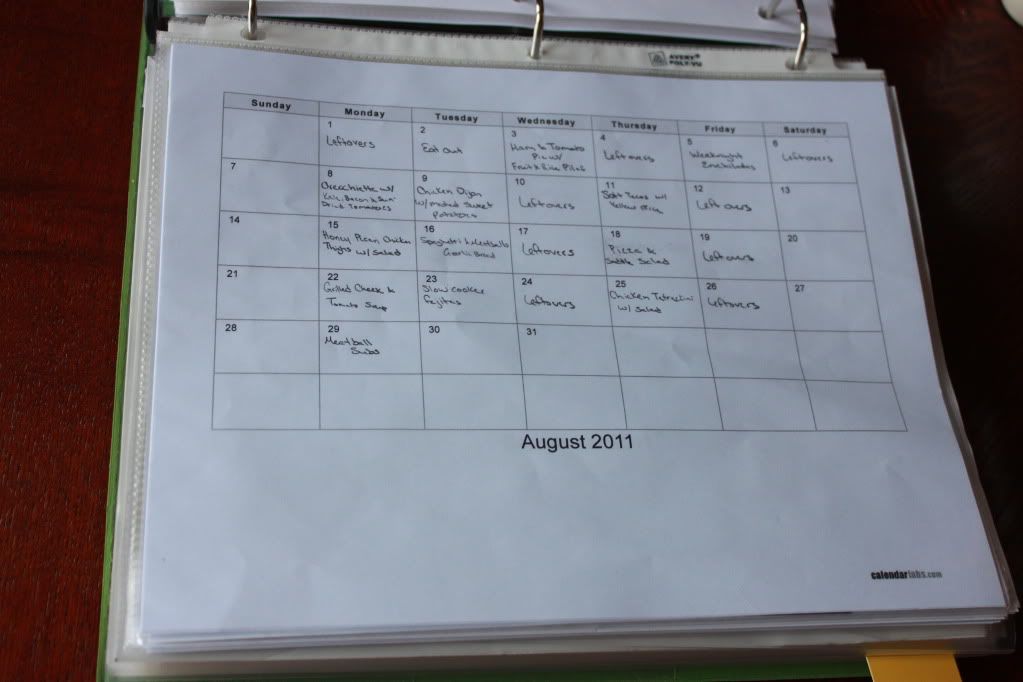 There is a little bit of upfront work, but don't get scared! You will love not having to worry about what you are going to feed your family every day.
I save all of my tried and true recipes on tastebook. It's a fabulous site that lets you make your own cookbooks. Anyways, I copy and pasted all of the ingredient lists of my favorite meals to Microsoft Word. I color coded the words (green for produce, red for meat, blue for dairy, pink for alcohol, and black for all center aisle grocery items) It sounds like a lot of work, but I finished it in one night and I have a ton of recipes. I promise after it's done, you won't have to do it again until you decide to add new recipes to your favorites!
After I've made my meal plan calendar, I copy and paste the ingredient lists for that months meals in another Word document. I plan on saving each months information for future use hence all the copying, pasting, and saving.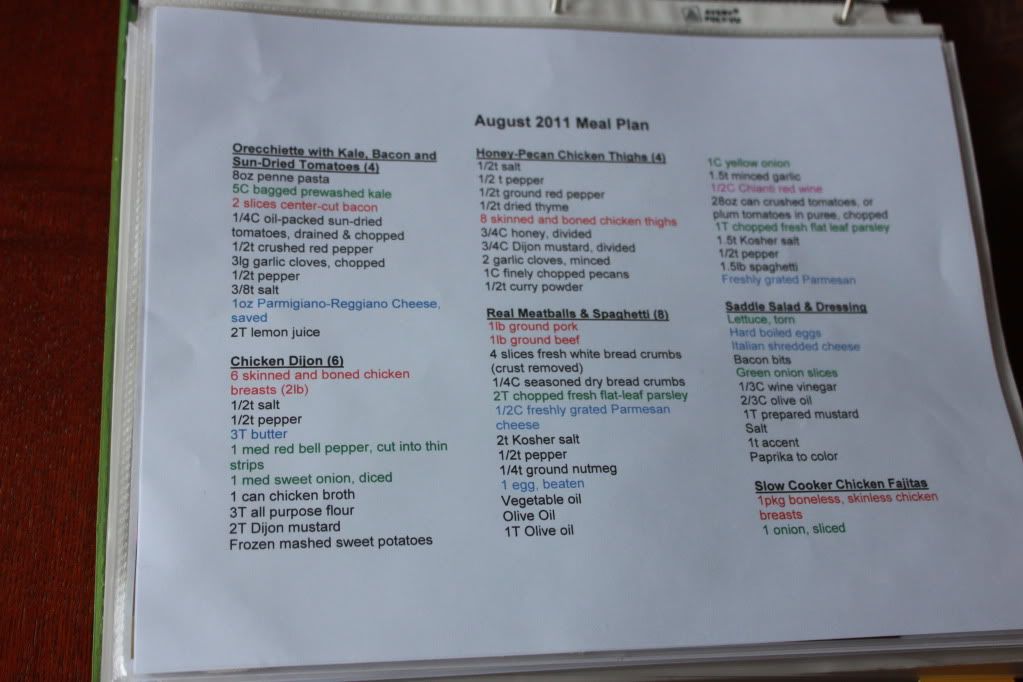 One of my goals is to also continue trying out new meals. I FINALLY organized all of my magazine tear outs into a notebook of their own with color coded tabs.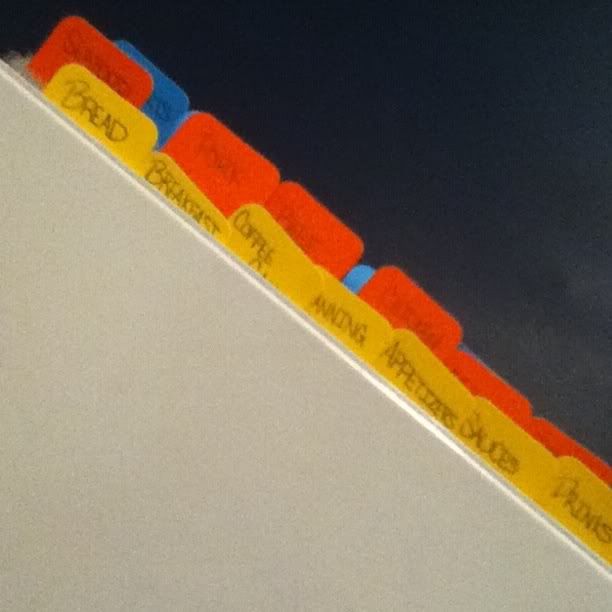 Please excuse the Instagram photo...I got lazy
!
Behind my meal plan calendar I have the recipes I plan on trying for that month. From there the recipes will either be trashed or added to my favorites, including the master ingredient list document.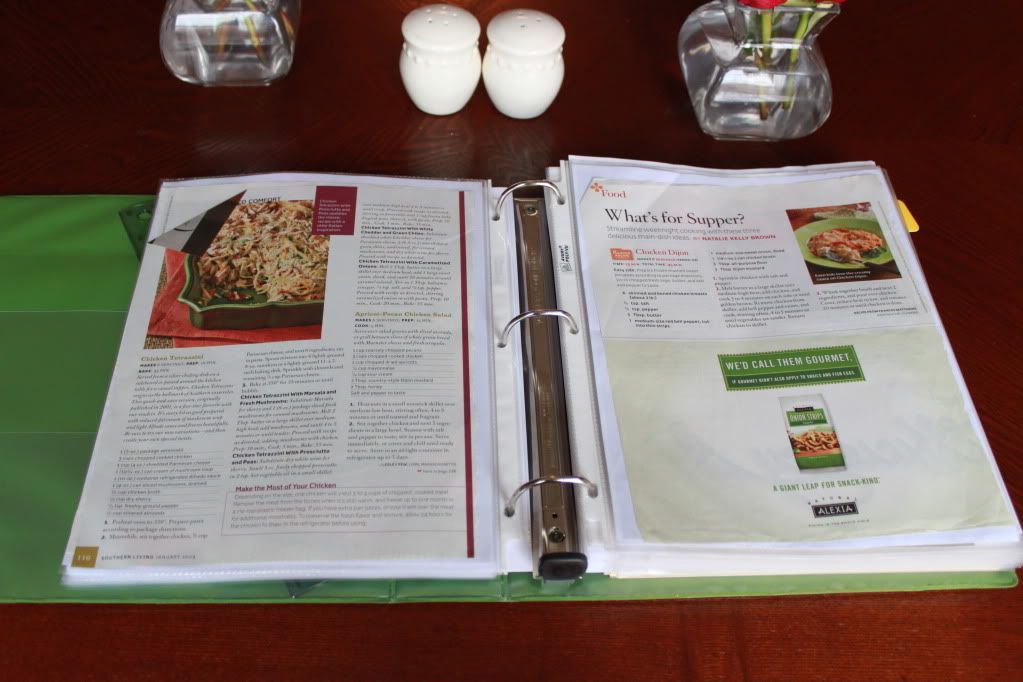 Next up is the monthly grocery list. Yes, I said monthly. I do still have to go to the store once a week for my produce and any couponing I want to do that week (more on that in a minute) other than that I get all meat and center aisle products at the first of the month. I just toss the meat into the freezer. I have to say, my monthly grocery shopping for August only cost me $120 so it's not a mind blowing bill! (This did not include formula and obviously I'm going back for some formula.)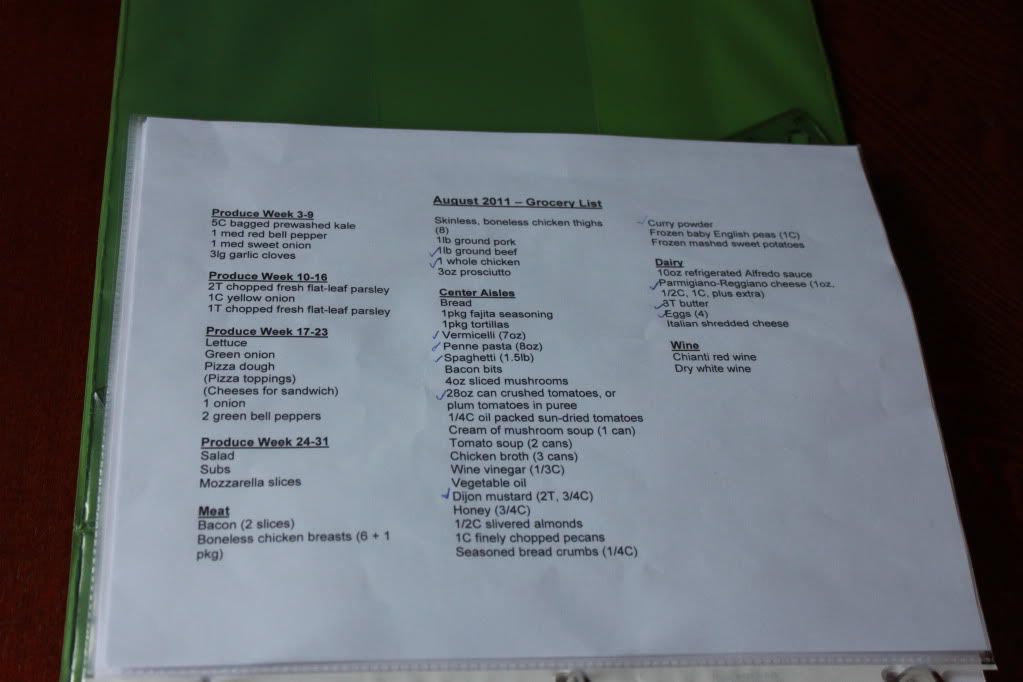 I kept all of my grocery receipts from July so I can truly total my monthly spending on each meal plan. I plan on putting totals on all of our tried and true recipes so I can have better control on our monthly grocery budget. Yes, it will be a big job, but once it's done, it's done.
After the month is over I put all of the above information into one page protector to save it for future use. If I'm in a crunch, I can grab it and go!
It was important to me to implement my couponing into the meal planning as well. I've reduced the amount of couponing I'm doing now, not because it wasn't paying off, but because I've learned more about what works for us.
I've learned to clip only the coupons that we would use so I've gone from two binders to one. I use baseball card sleeves and dividers to keep everything organized that way if I happen to need say aluminum foil one week I know exactly where to find the coupon no matter if it's listed on my couponing website or not.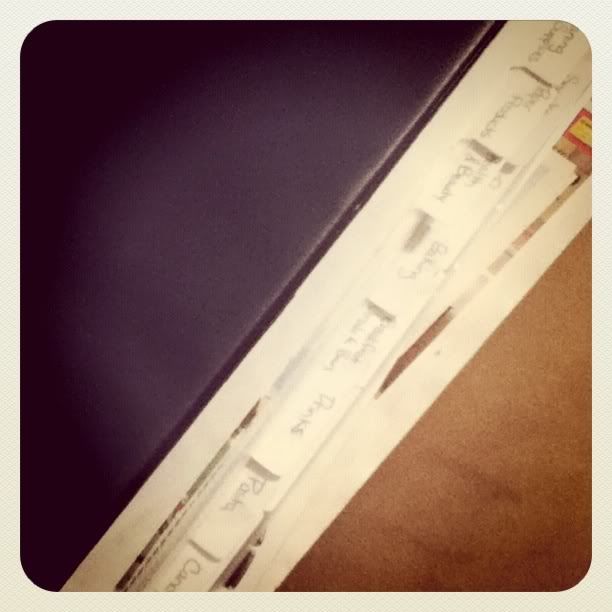 One of the awesome things I found was a "best time to buy list". It includes both food and non food items. I plan on using this to help with my meal planning along with my couponing and knowing what might be good to stock up on and how long it will be before it comes on sale again (to clarify I usually never buy more than 4 of one thing at a time and that's if it's at an awesome price).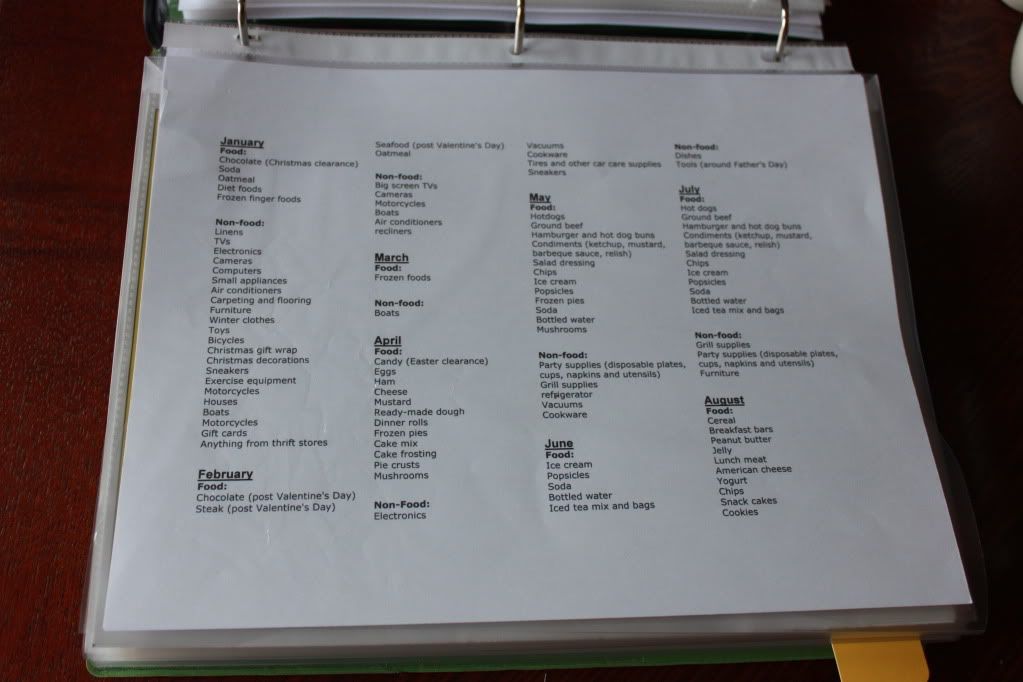 Are you guys still with me? I'm almost done!
My next printables help me remember what I already have. I have a pantry inventory printable and a freezer inventory printable. That way I don't have to dig through everything all the time.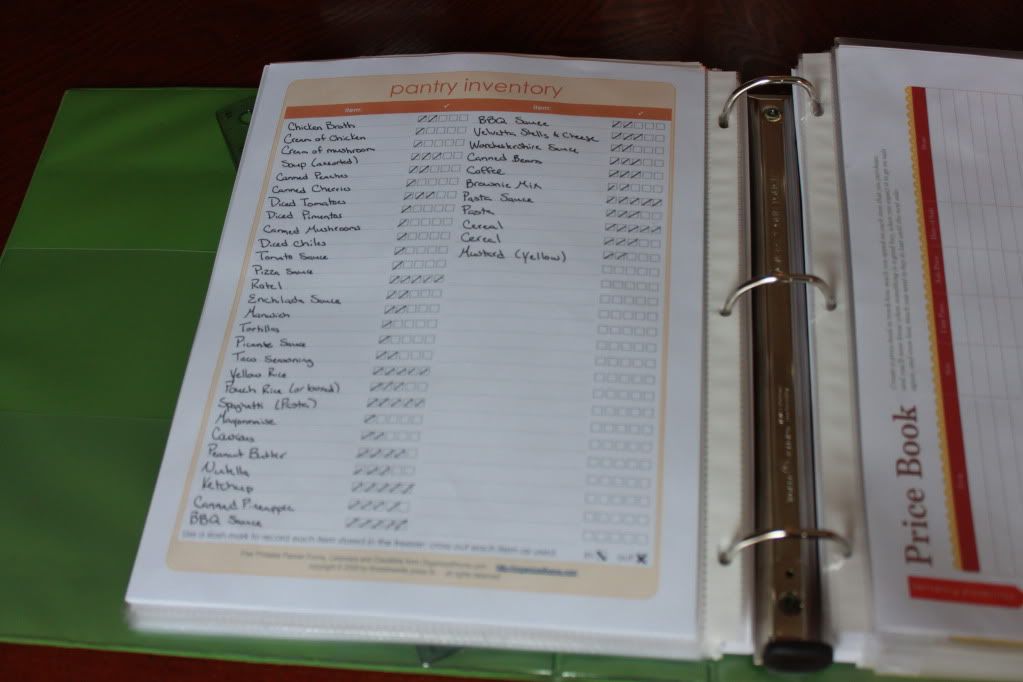 The last printable is my price book which I'll use to track the best prices I've found on food. I don't know about you but when I get to the meat aisle I never know if I'm paying too much or not. Now I can track what item, where, how much, and when I bought it.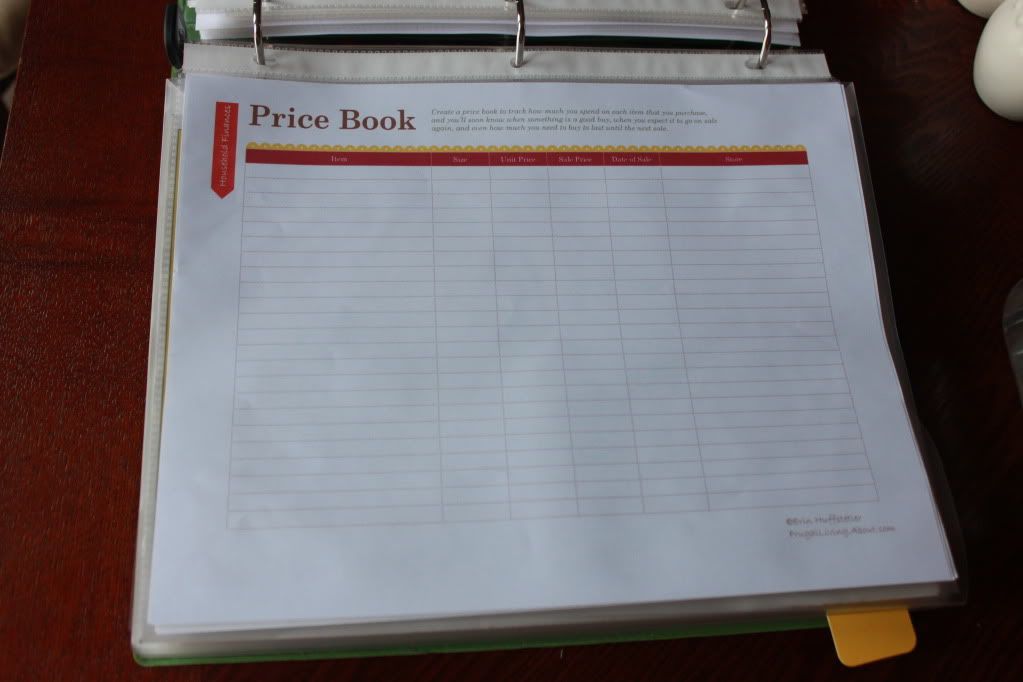 Lastly, I have a folder to stash random coupons and receipts to file later.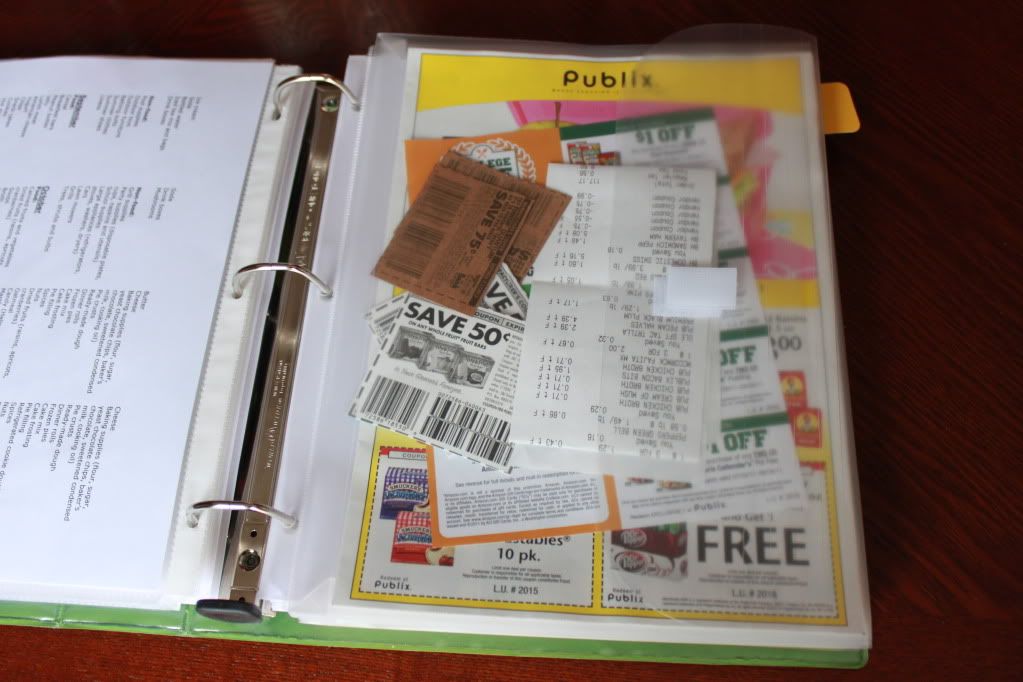 Ok, that's it! Who's ready to monthly meal plan?

Please take a second and hit the "Like" button...