This past week I had the chance to throw a new friend a baby shower and I had so much fun putting things together. It seems the more parties I throw, the easier they get to do. I guess I'm sort of finding my "entertaining groove" which is somewhat stress relieving since I will have two special birthdays to plan for in a few upcoming months.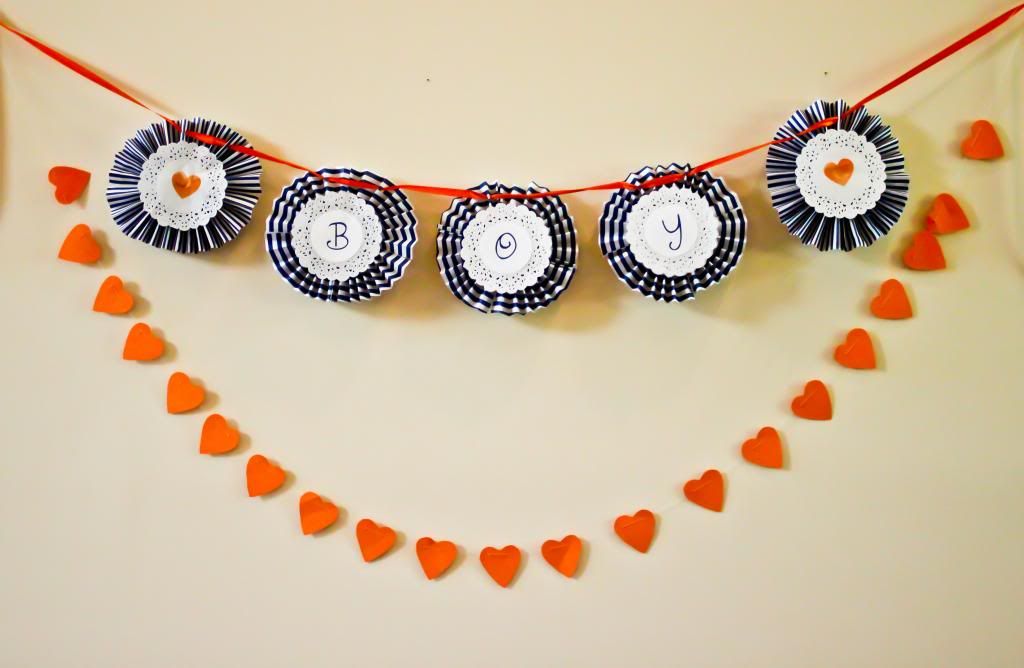 I had no specific theme in mind when I decided to take on this task so I asked the soon to be mom of two what her nursery colors were (navy, grey and orange) and it helped guide the way. I remembered awhile back seeing a "shower" themed shower and I thought it was such a unique idea and that it would work perfectly with her colors. I decided to use orange as the "pop of color" and turned the theme into a "Shower of Love".
All the decor was super simple and I got it all done in a weekend. The mantle garland was simply tulle which was uber cheap at Hobby Lobby. I just cut equal lengths of 3 different colors (you can't really tell that in the pic below) and tied them around a longer length of tulle.

Note: Do not buy glitter tulle unless you want your house to be glitter-ific.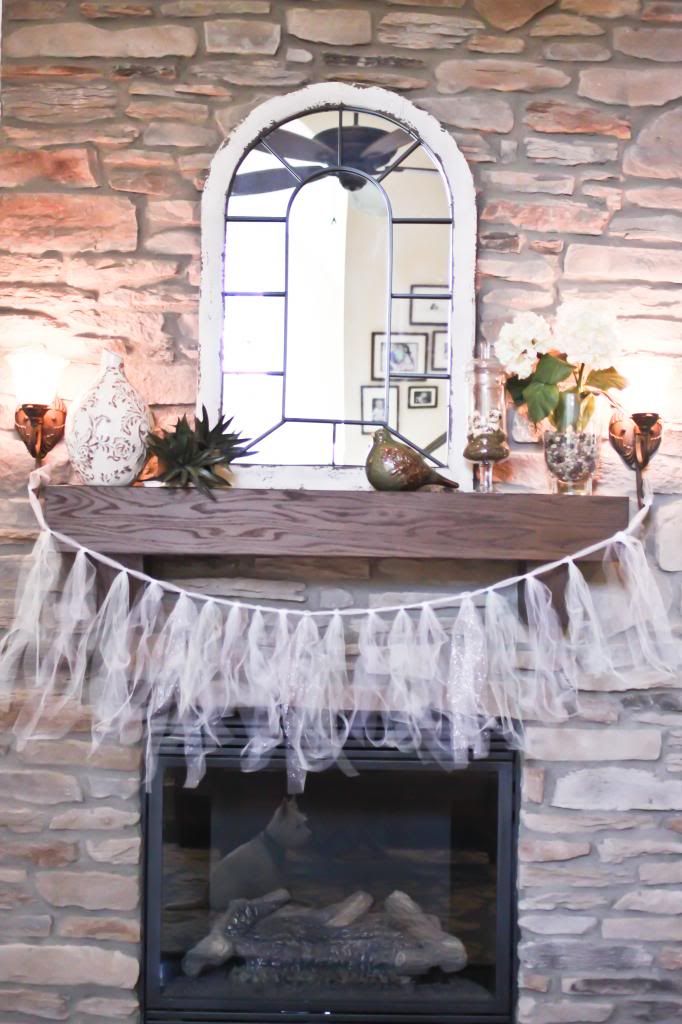 For the raindrop strands I just used a heart stencil on scrapbook paper and cut the hearts in half. I strung them on sewing thread and put a dollop of glue on each to keep them in place. Hang these suckers immediately. Do not even try to "neatly" stack them until party time or you will spend a good hour untangling. Trust me.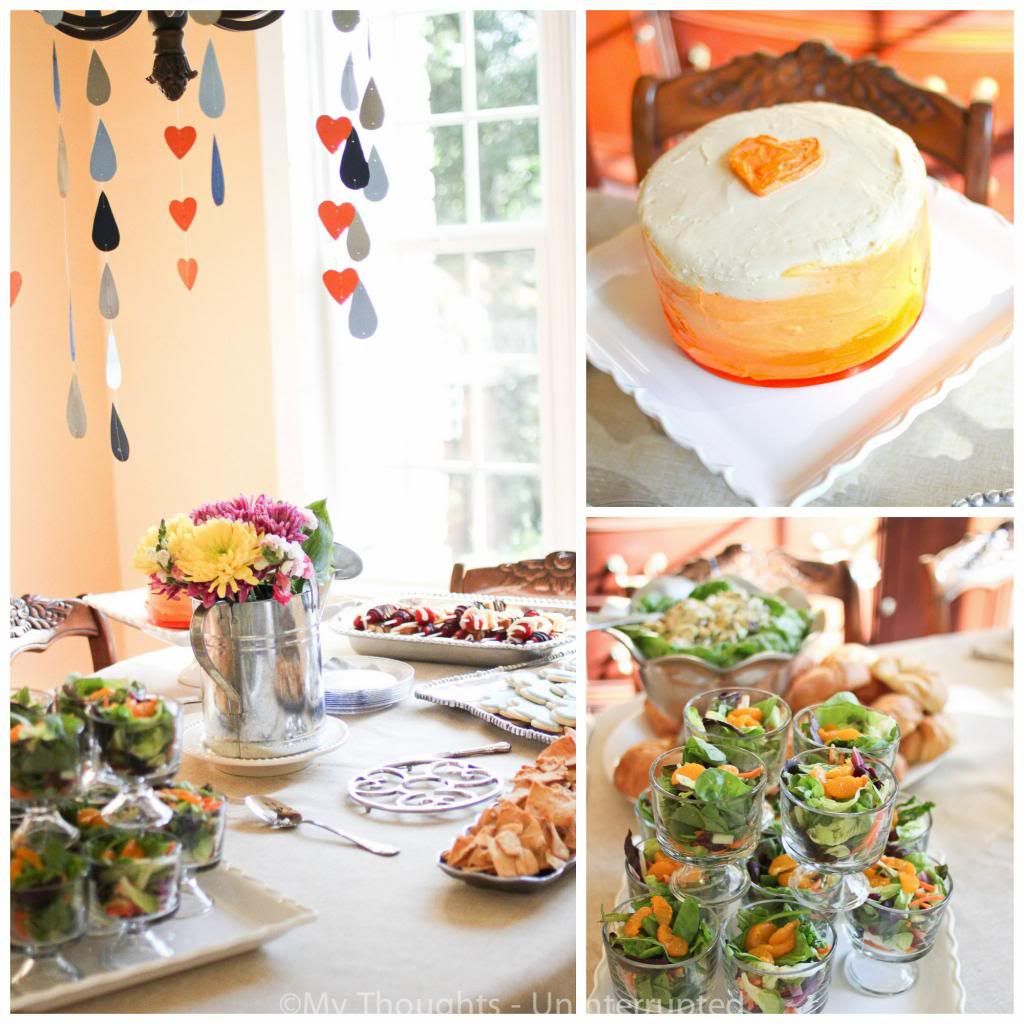 I tried to keep the food fairly simple as well since I was doing it all myself. I used the cloud cookie cutter that I had bought for Ethan's airplane birthday party to add a touch of the theme. I also attempted to make an "ombre-ish" cake that my cake idol Sweetpolita had put on her blog not too long ago. It didn't turn out exactly as envisioned, but this non-cake decorator was pretty satisfied. I'd much rather bake than decorate any day. Don't even ask me to make cupcakes. I'll cry and redo them a billion times over.
As for the non sugary food I made chicken salad served with croissants, artichoke dip and individual salads. I'm a sucker for entertaining-ware, but I think one of my favorite things to do is use individualized serving pieces. I have to say I use these mini trifle dishes quite a lot. They are perfect for making simple little things extra special and you can do so much with them.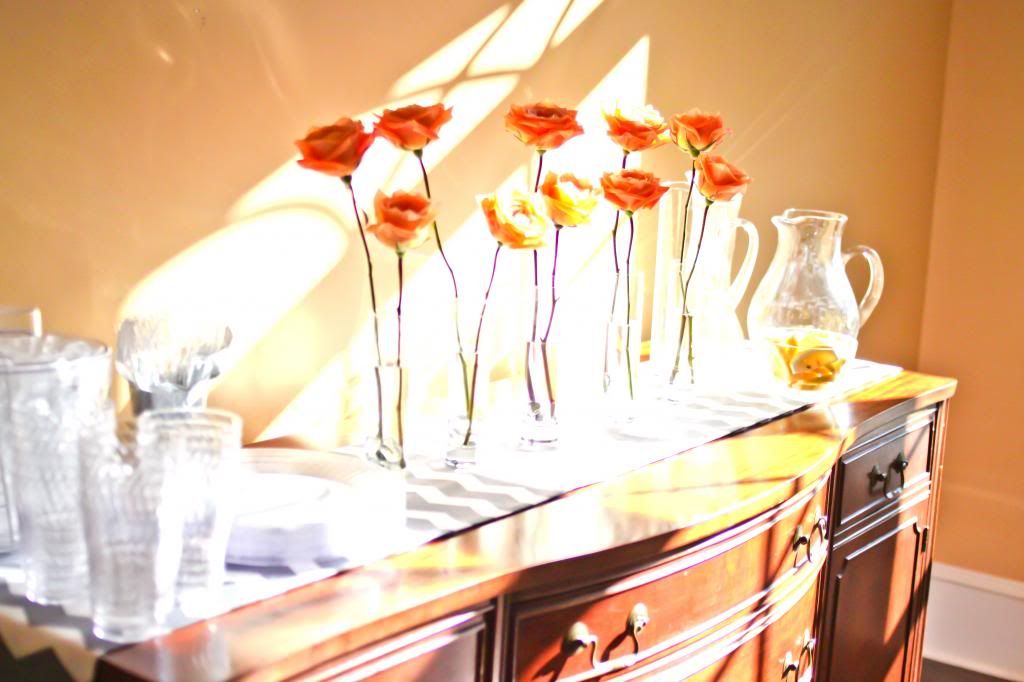 For the buffet table I used a grey chevron table runner that I simply folded and ironed for a finished edge. I also picked up these mini vases at Hobby Lobby for $1.50 a piece. They were the perfect way to stretch a floral budget. They helped make an impact without hurting my bank account. I definitely foresee using these quite a bit more in the future whether as centerpieces or perhaps across the mantle.
To see other party ideas check out these posts:
If this blog is awesome and you know it, hit the "Like" button...