Considering Ethan is quickly approaching 19 months old, I think it's fairly safe to say that I've fallen a little behind on his monthly updates. I feel like all the sudden I have a true boy. Scraped knees, clumsy accidents and messy incidents are all the rage around here these days. I'm pretty sure this little guy is going to be responsible for a lot of my gray hairs in the future!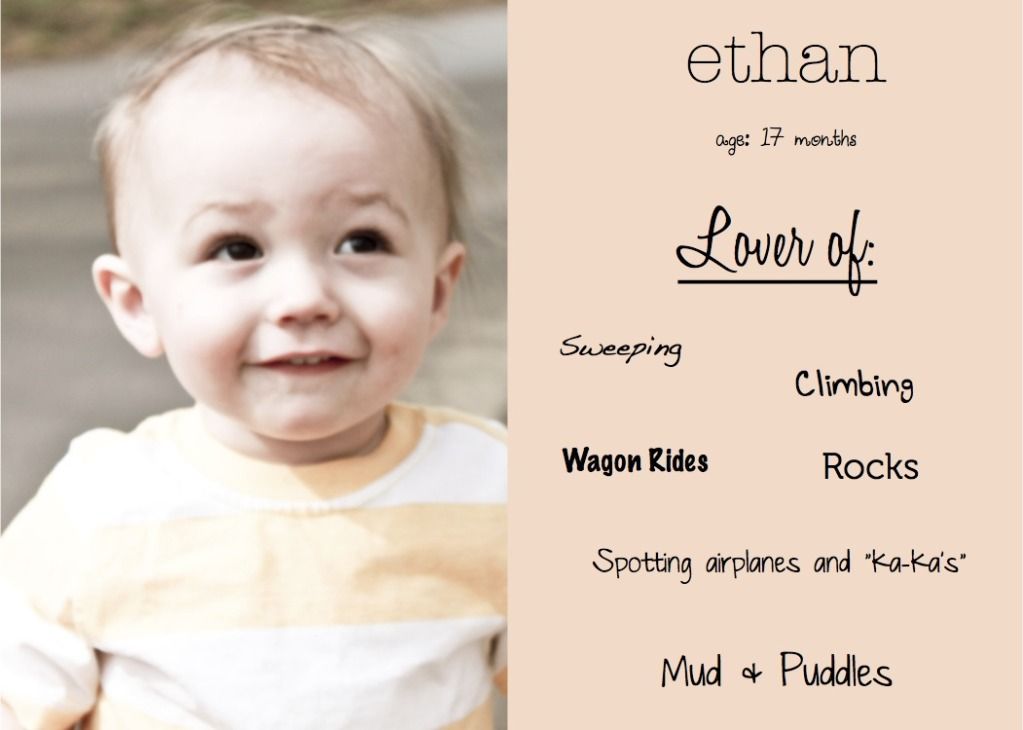 For those of you not in the know..."ka-ka's" are birds. Think the sound of a seagull perhaps? It comes out more like a word I'd prefer him to not say though (use your imagination) so that's always fun explaining.
Ethan has exploded into his own little baby gibberish that I swear sounds German. He has little conversations with himself from time to time and is really starting to use new facial expressions. I think it's hilarious. He does say quite a bit these days and he is especially cute when he is trying out a new word. He says it very emphatically with a head nod to reassure you that he really does know exactly what he's trying to say. I need to get this on video!
We recently went to our 18 month checkup. He's currently 33.25 inches long (75th percentile) and 24 pounds and 13 ounces (36th percentile). Long and lean is apparently going to be his stature. Clothing-wise he is wearing 18 month sizes. He has been true age to size since day one. As for the feet, he's currently wearing a 5.5 wide. Boy are those pigs pudgy!
He is still a fantastic eater as long as he is not distracted or teething. We've cut back on milk so that he is only drinking it with meals now (no extra) and are slowly (slowly) switching from juice to water. He seems to snack all the time, but I guess if I was go, go, go like he is I'd probably be snacky too!
As for naps, he is still doing one a day. He will sleep anywhere from 2 to 4 hours which is fantastic for me! I'm keeping my fingers crossed that these will stick around for a long while.
Personality wise he is very independent. He's an explorer and loves trying new things. Michael and I recently tried to act like we were going to leave him at the park in order to get him to follow us...let's just say he could of cared less. He waved, said "Ba-Bye" and literally ran in the opposite direction. I'd say it hurt my feelings a little, but I'm happy he is such a confident little guy. Let's just hope common sense kicks in soon for his safety!
Although these past couple of months have been trying as far as discipline goes, I do have to say they have been the most fun. E's personality is truly starting to take off! He is beginning to love playing by himself and he loves getting out and doing lots of fun things with us too. I'm loving this time in my kids life right now and am excited for what lies ahead!