Ethan,
As of tonight at 7:20 PM you will have been out of the womb longer than you were in it. I can't believe how quickly this has passed (of course I say this every time). You amaze me every single day and my love for you continues to grow more and more.
You are constantly on the move now. You are into everything and even climbing the stairs! Not only do you crawl at the speed of light you can also go from crawling to sitting or standing up with hardly any effort.
One of your favorite past times is bath time as well as playing with your water table. You love splashing around and playing with your bath toys. You are definitely a water baby!
As for food you are completely on finger food now! We've introduced rice, bread, cheese, watermelon, plums, nectarines, broccoli, and cheerios. We just had your 9 month appointment today and you have the go ahead to try pretty much anything besides peanut butter, honey, and eggs so there are even more foods that you can try now!
We also got the go ahead on giving you meat, but I think I'm going to hold off on that for awhile. You just cut your very first tooth a week ago and I think I'll wait until you have some more before we give meat a go.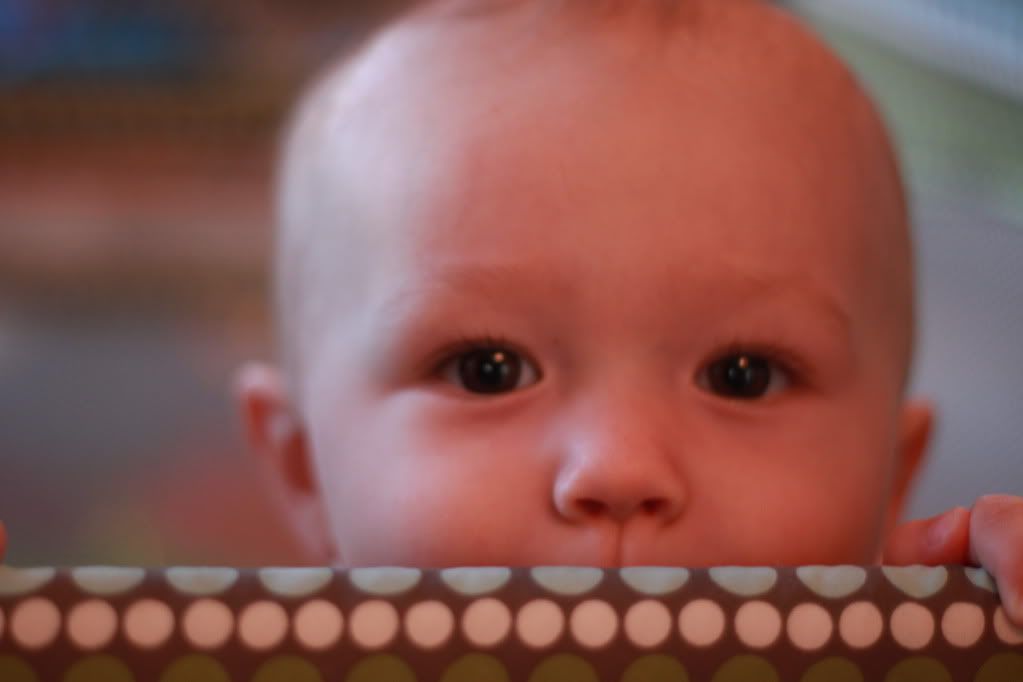 Ohhh those big brown eyes...you are going to get the ladies with those for sure

.
We are also starting to wean you off your bottles slowly, but surely. You love your sippy cup now especially when it has ice cold water in it. You have had formula out of it a few times, but you don't seem to mind the change.
Mama was so proud of you at your doctors appointment today. You got your finger pricked and didn't even flinch. You are such a tough boy and hardly ever complain. You have finally escaped the 10th percentile in weight. You have moved up to the 25th percentile weighing in at 18 pounds 11 ounces. You are staying steady in the 50th percentile in height at 28 inches. As for clothing you are wearing mostly 9 month and 6-12 month sizes.
Only 3 more months before your first birthday! Mama has some big plans. I love you!
Love,
Mom