Normally I'm the type of person who rushes from one thing to another. I'll start a project and can't wait for it to be completed so I can move onto the next. Rarely do I ever take the time to just relish in the progression of something. I just want to cross the items off the list so I can...well make another list and begin the process again.
I guess it's something about the thrill of knowing I completed something. I accomplished something. I can say...ok, well, I did that. Now what?
In some ways I view my kid(s) this way.
There's x amount of time to grow baby number two before I can say...great, I grew a healthy baby now lets make it past the first year.
There's x amount of time before Ethan should be transitioned to a big boy bed before I can begin on number 2's nursery.
Although I know that each moment I spend with my son is precious, yesterday slapped me in the face pretty hard when it reminded me of how fast time really goes. Ethan starting Mother's Day Out was a big milestone for our family. Other than family, Ethan has never been in anyone elses care and now, two days a week, he will be spending his days elsewhere.
I saw time flashing before my eyes as I was packing up his little lunchbox the night before.
How did this happen?
How did he grow so quickly? Yes, today it is just Mother's Day Out, but in a couple of years it will be Kindergarten and then before I know it he will be graduating and moving away.
Dramatic? Maybe.
Hormonal? Definitely.
Pre-baby days I always said I could happily skip to the part where they were 5. I knew nothing about babies, but I knew that taking them to school, carting them around to ballgames, helping them with school projects would all be a blast.
Present me? Well, I realize how fleeting each moment is. I realize that once I cross these milestones off the "Kid To-Do" list I will never get another chance to do them again. That time will be gone and I want to make sure I relish in the progression of each of those milestones because they are precious.
I made it through the day yesterday without shedding a tear. I woke up extra early, so early in fact that I was twiddling my thumbs

(in case you didn't know...this never happens. I'm always late. Always.)

. I dressed Ethan in his cute little outfit and tried to take pictures.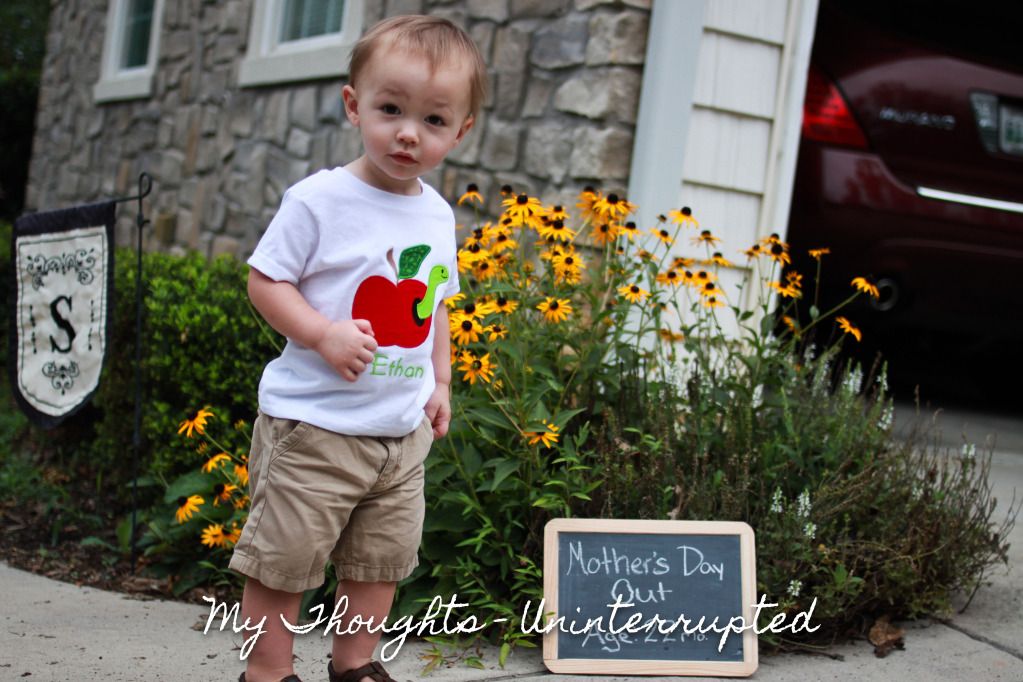 He found sweeping more interesting. I kept clicking away anyways.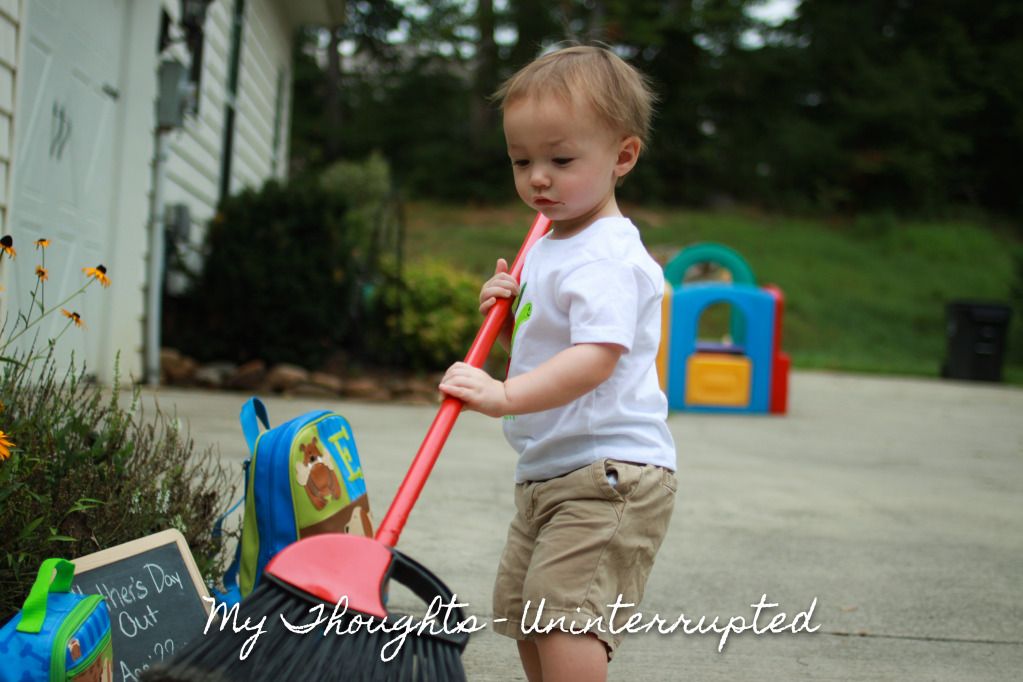 We drove to "school"

(Mmhmm, I call it school. Get over it.)

and I talked to him about what his day would be like and promised that he would have fun and that I would pick him up later that day.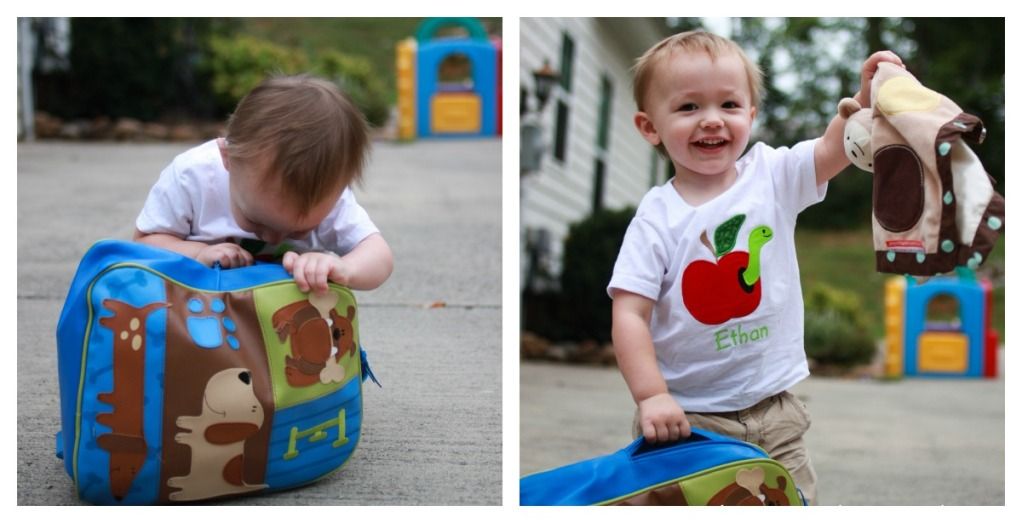 I got him out of the car, put his backpack on him and held his little hand as we walked toward his teacher. He was gripping my hand so tightly, but he let her pick him up and they walked away.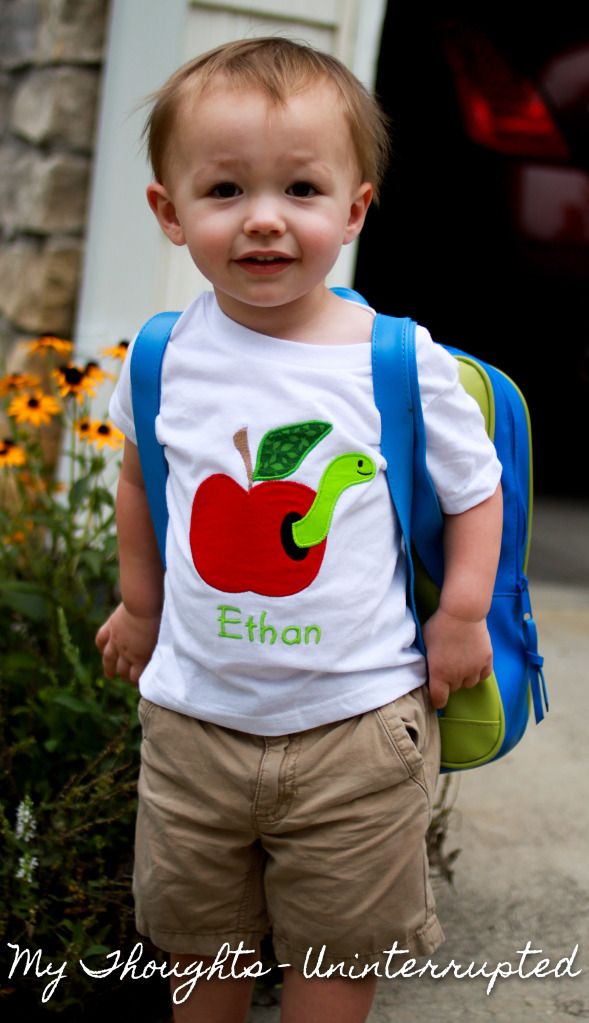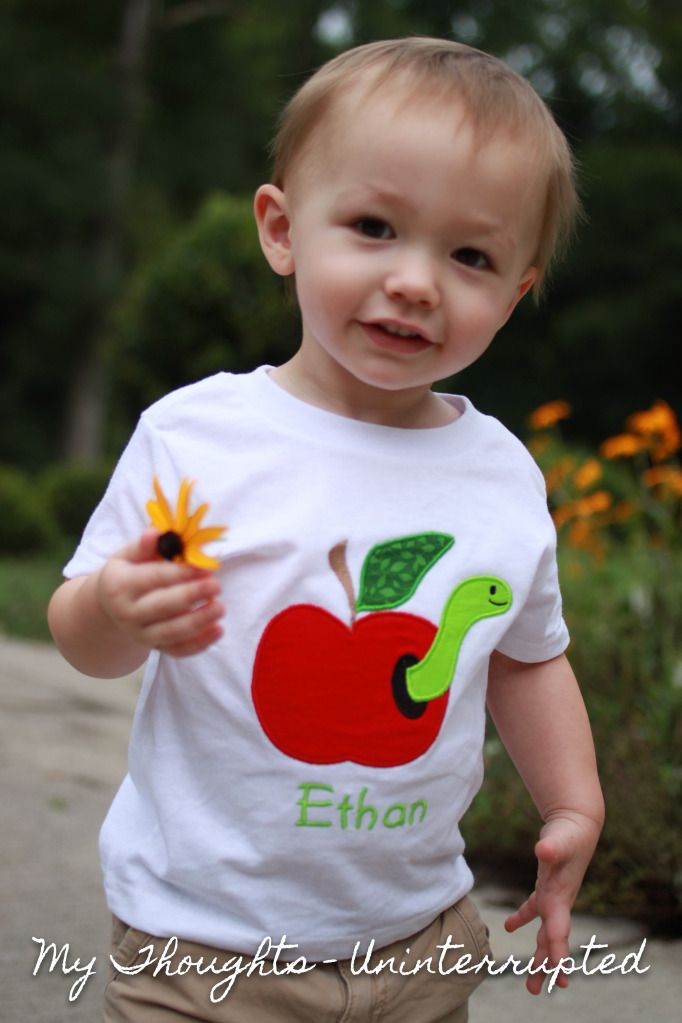 He truly has grown so much, so fast, it makes me both proud and sad at the same time.
How do they grow up so quickly?
**A special thanks to Ruffles and Bow Ties for making Ethan's super cute shirt!**