Now that Ethan is almost two we seem to have days where I feel like he is into everything and nothing all at the same time. What a contradictory statement right? If you are a toddler parent though I'm sure you know what I mean. He's into everything I'd like him not to be into (like the freezer, the cabinets, the dog bowl) but if I try to distract him with toys his attention span for those might last 30 seconds at best.
He's also at the point where he's ready to start learning and I've got a general list of things I'd like him to know before he turns three. The problem is...I don't know how to teach him. At first he responded well to me telling him what something was and then repeating it back to me. Now when I ask him questions I'm either ignored or I get his irresistibly cute, but equally irritating "Nooooo".
I was not very into school. I was in all the honors classes and such, but it didn't come easy for me. The problem was I never really knew how to study. Therefore I think it makes it difficult for me to teach. I don't want Ethan to have to struggle like I did and I'd like to do my best to get him off to a great start.
Last night I started researching on Pinterest for toddler friendly learning activities and I gathered that maybe I was going about this whole learning thing the wrong way. He's simply not ready for me to quiz him. He just wants to explore. The idea is that through exploring hopefully he will organically learn all the things I'm desperately trying to teach him. So I hit up Pinterest for some ideas and came up with at least 30 that I can start trying out.
At first I was looking for worksheets. A teaching plan if you will. As usual, I was ahead of myself and rushing things. After everything I saw on Pinterest I learned that teaching a toddler is all about fun and exploring the senses. The biggest thing I picked up on was that I just needed to relax and have fun with him. He would learn things as we went along.
It turns out I had unknowingly already started teaching him a few weeks ago when I began setting aside some time for art sessions.
I have to admit that I originally started doing this to distract him while I was getting dinner started, but that was a big flop. He needed my full attention to keep him seated there for more than a minute. Let's just say putting the paint out and cleaning it up were taking longer than the actual project.
So I moved activity time up to right after his nap and made sure to keep myself fully focused on him.
I
've been desperately trying to teach him his colors so I broke out the crayons and paint. I'd constantly quiz him on what color he was using and tried to make sure he was doing everything in the right order. "First water, then paint, now paper....NO, not your fingers!...use the paintbrush." I'd be frustrated because he wasn't doing things in the correct way. After reading several blogs I figured out that it was me that was holding him back. I needed to relax and let him figure things out for himself. Fingers are okay in paint. Paint does not ultimately have to make it to the paper. Breathe. Stop quizzing. Just talk.
Because he asked nicely, we actually did our art time early today. Today we played with Play-Doh. I cut out shapes of animals and told him what they were, what sounds they made and what color of Play-Doh we used. I try to keep the quizzing to a minimum and the fun to the fullest.
Then he asked for his favorite toys at the moment...trucks! So we brought a couple over and I made "rocks" for him to haul and push around. I flattened some play-doh out and taught him how to make tire tracks.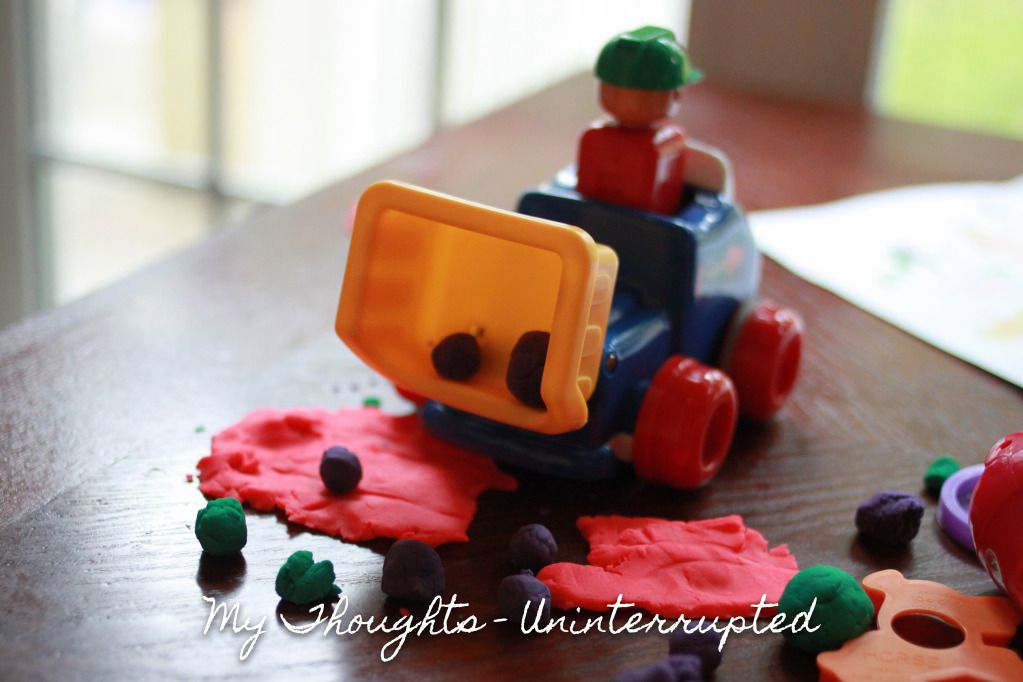 We both had a lot more fun. I was a ton less frustrated. Yes, we still had moments...there will be no throwing of the Play-Doh...and of course that led to toddler-like acting out, but overall we had a great time.
Is he ready for a pop quiz? Nope, not hardly. But hopefully over time, he will pick up on the things I want him know. He will learn them because he had fun doing so not because I constantly quizzed him or printed out nifty worksheets.