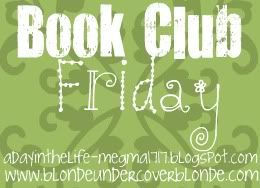 I saw this fun link up on a couple of other blogs and thought I'd join in on the fun! Hopefully it will encourage me to read a little faster since my goal is to read more books than I did the year before. At the rate I'm going, I'll never catch up...life as a mom I guess?
I can't believe I waited as long as I did to read this book. It was truly wonderful and extremely interesting. It is set in Mississippi in the 1950's and examines the different types of relationships white families had with their "help". A budding writer decides to secretly start writing a book from the helps perspective admist the civil rights movement. I cried and laughed while reading it and it was quite thought provoking.
I am fascinated by anything to do with WWII and after reading so many rave reviews I thought this book would be a sure winner. The author alternates chapters between a little Jewish girl during the war and a young American woman living in present day Paris. The beginning of the book made my heartache with pain and I couldn't wait to read what came next. I found that the present day chapters continuously slowed the pace down and eventually towards the end my interest started to fizzle out. It is still a decent read though.