The first trimester of nausea and tiredness is officially behind me and let's just say that it disappeared just in time for all the craziness that has been going on around here lately. Honestly this past week I've been having a hard time even remembering that I'm pregnant. Well, until I try to put on clothes at least. Maternity shorts are currently in route to my doorstep!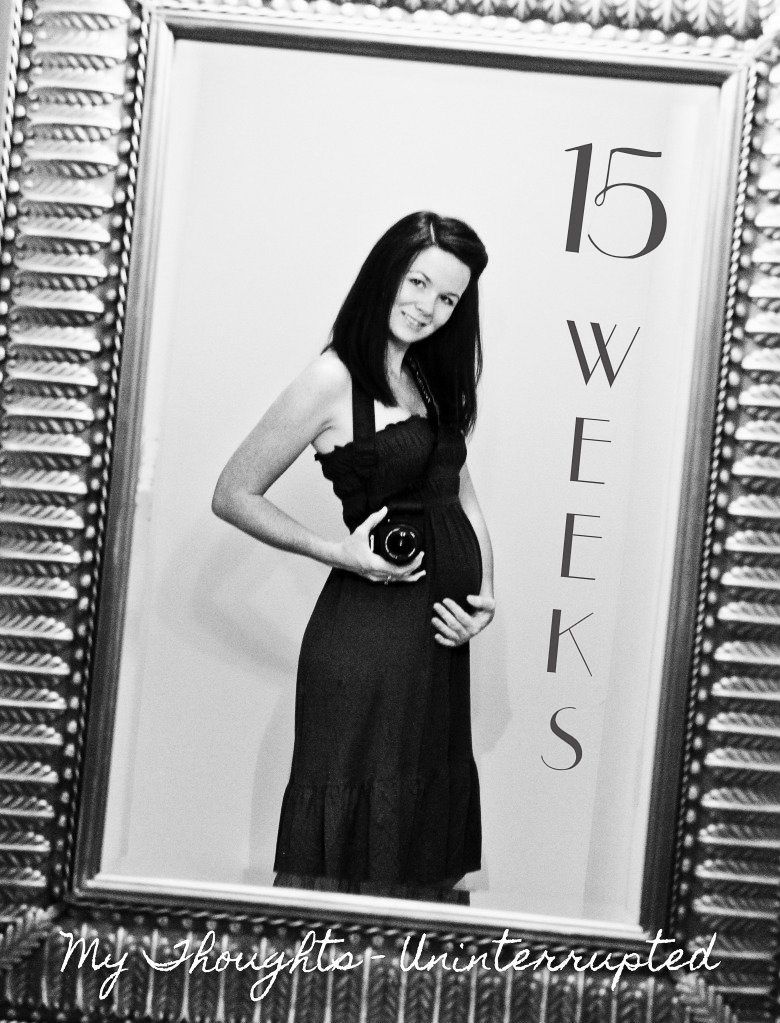 Total Weight Gained: I know this should be an easy one to answer, but I'm debating my actual start weight. I was at the lowest of low weight (16 pounds lighter pre-Ethan) when I visited the doctor back in December after my chemical pregnancy. For some reason they are counting that weight as my first OB visit weight meaning that I've gained 10 pounds. Weight-wise I know I was a good 5 pounds heavier (probably a more healthy weight for me) when I actually visited them for the first time for this pregnancy so I'm thinking I'd rather start there...meaning 5 pounds gained total so far. I'm hoping to gain only 30 this time around instead of the 40 I gained with Ethan so fingers crossed!
Sleep: If Ethan would allow, I could sleep so much more than I am already. I do wake up in the early morning needing to pee, but I do my best to hold it until official wake up time. I have a hard time going back to sleep if I get up.
Best Moment of the Week: Hearing our baby's heartbeat last week! I will admit that we had a little scare. The doctor was having an incredibly hard time finding the heartbeat. So much so that she started asking me the scary questions of "Has your nausea disappeared?" "Have your pregnancy symptoms subsided?" all of which I answered a hesitant yes to. The only thing that saved my sanity was the fact that over vacation the previous week I had definitely felt movement. She finally found a heartbeat, a steady 151. Both her and I are a little suspicious of me possibly being further along than we originally thought. This baby is carrying very high and obviously feeling movement at this point is somewhat strange. I'm hoping our next ultrasound will really put my due date in stone though.
Belly Button: Flattening out!
Labor Signs: Obviously no.
Movement: Yes! Well, I haven't felt much this week, but last week this baby was definitely moving about a ton. Occasionally he/she will ball up one side causing some discomfort, but I'm looking forward to more movement as it's always reassuring.
Food Craving: The first trimester I was not into sweets at all or meat for that matter either. Thankfully this trimester everything seems to be back in play although sweets are still not my favorite thing which is completely unusual for me. A bite or two of whatever sweet thing is available is usually enough for me. So much for ingesting a whole bag of sour patch kids in one night. My tongue and my body thank this baby for this temporary life change.
What I Miss: Being skinny. It took so long to get back and now here I am again busting out of my pants. I'm also going to miss my doctor as I'm currently in search for a new one thanks to the move. Since I'll probably end up being a scheduled c-section I'm not quite sure why I can't just keep the doctor I currently have. A 4 hour drive isn't THAT big of a deal...right?
Yeahhhhh, no one else bought that argument either.
What I'm Looking Forward to: Finding a new doctor and finding out the gender of baby #2!