It is hard for me to imagine, but Ethan is starting Mother's Day Out next week.

*Cue crazy emotions about how time really goes way too fast*

With baby number two making his/her appearance later this year and no family around this time, I knew this would be our perfect answer. It will give me time to spend one on one with the new baby and it will give Ethan time to do some more growing and learning outside of the home. As much as it pains me to put him in someone else's care, I know it is time for him to start learning how to make friends.
My husband is constantly making fun of me because I keep referring to MDO as school. I know it isn't really school, but I also know it's the beginning of what will soon be right around the corner. First it will be this, then preschool and then before you know it they will be in kindergarten. Life speeds by so much faster these days it's scary.
In brighter news I have a confession to make....
One of my absolute FAVORITE things to do is buy school supplies. Yep, chalk it up as a guilty pleasure, but I always peruse the school aisles everytime this time of year rolls around. While Ethan isn't quite ready for me to really get my shop on, there were a few things he needed that I really enjoyed buying.
It is mind boggling to me, but apparently there is going to be a group nap session at MDO. Please excuse me as I die of laughter. Let's just say I'm glad it's them and not me that's going to be trying to get my child to nap
crib less with other children in the room.
Lamb & Ivy Nap Mat, Brown Monkey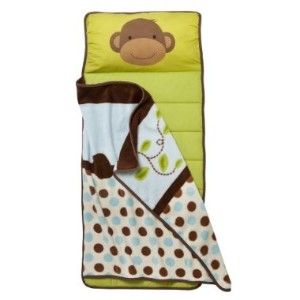 He also of course needed a little backpack and lunchbox. My mom had purchased a Stephen and Joseph backpack for him some time back so all I needed was the
perfect little matching lunchbox
. S
eriously I died at the amount of cuteness when I got him to "try them on". I promise I will get a first day of "school" picture so you all can melt too.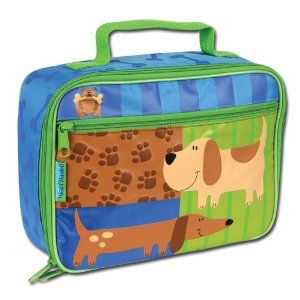 Finally he needed some labels for the sippy cups he will be taking with him. I fell in love with all the choices from Kiddo Tags. Mine just arrived yesterday and I couldn't be happier. I would show a picture of mine, but they have my phone number plastered all over them and to protect myself from internet crazies (no, not you..them, I promise.) I'll refrain. I ended up getting the deluxe labels for his sippys, shoe dots so we don't lose that expensive footwear, and clothing tags to go inside his jackets once it gets a little cooler out.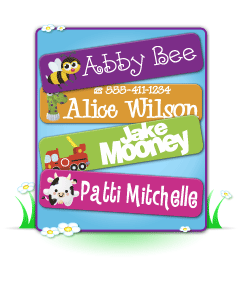 I seriously searched a long time to find the perfect deal and wouldn't you know that two weeks after I purchased them that plum district came out with an amazing deal? If you need tags, I certainly recommend these. I can't vouch for how durable they are since I've yet to use them, but I can certainly vouch for their cuteness.
Right now on Plum District you can get $40 worth of labels for $20. Just click this link to buy! Also you can get an extra 25% if you use the promo code FLASH31 before 5PM PST today. And as an extra bonus....you can use the code "referral" on the Kiddo Tags site for an extra 20% off.
Now that's a good deal folks....get shopping!
*** All thoughts and opinions are my own. I happily own all of the products I have mentioned above. If you click through the links to purchase these items Amazon and Plum District will compensate me a small amount for referring you through the links. Now go shop, shop, shop....I've got MDO to pay for :) ***