Not going to lie, I had to look back through my emails from Babycenter to figure out how far along I was this week. We can chalk it up to pregnancy forgetfulness of the curse of not being the first pregnancy. Either way, I'm not proud of myself for not remembering, but I have a feeling it's only going to get worse. I did weekly updates when I was pregnant with Ethan, but seriously it was like pulling teeth to get myself to do them so I previously decided that these updates would be a little more spontaneous. Probably another reason I never exactly remember how far along I am.
There isn't a whole lot of change to report this week. The biggest news is that I have hopefully found a new doctor...another downside of moving. My first appointment with him is next Friday and I'm really hoping it works out. Let's face it, at that point I'll be halfway through this pregnancy and doctor dating is really not something I want to be doing. Other than that, everything mostly feels the same. I'm bigger, I feel fatter and my craving for sweets are back (although in small doses rather than mass quantities thank God!).
We will hopefully be finding out the gender of this baby in two weeks so I'm going to put a little poll to the right hand side of the blog so you guys can place your votes! As far as what I think??? Well, everybody has been telling me that they believe this baby is a girl. I have even received one baby gift specifically for a girl (confident much?). So on that note, I'm voting boy. Somebody has to cheer the other side on right?
Here I am at 19 Weeks with Ethan...just to compare. Definitely wearing non-maternity pants there! I think I'm looking a little more spread out this time...maybe? Not too much difference though.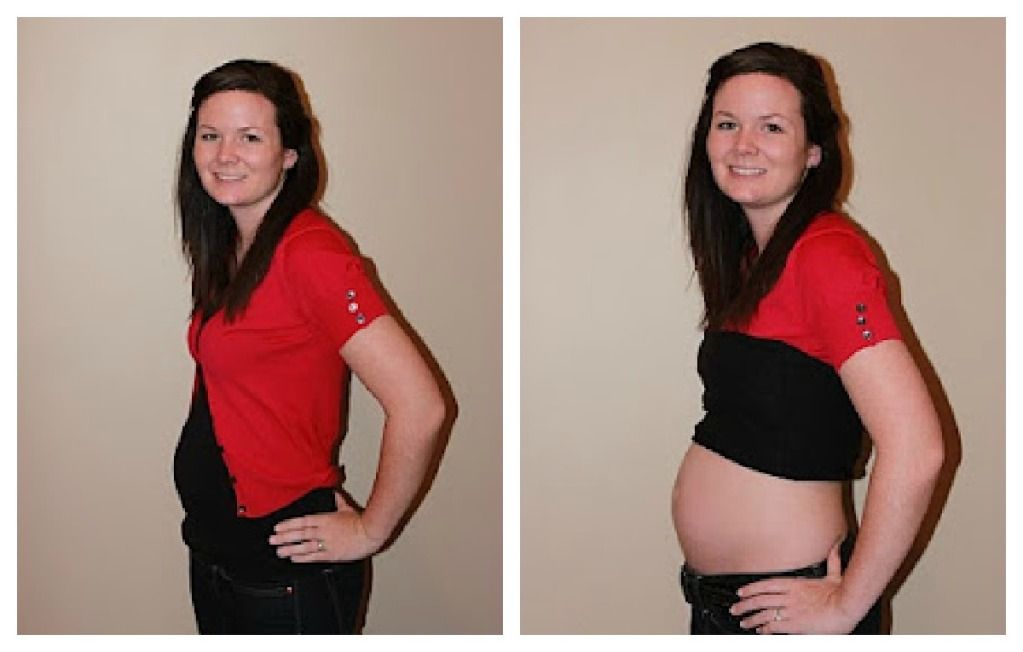 Total Weight Gained: I don't want to be completely weight focused but I also really don't want to gain 40 pounds again this go around. I'm up to 8 pounds in weight gain at this point and still not to my pre-E weight. I'm trying to drink lots of water to curb some of my random snacking and I'm trying to eat some of my crazy cravings in moderation. We shall see though. I'm definitely feeling a little more weight in my face this week which is so not a good sign.
Sleep: Sometimes I find it a little hard to go to sleep these days, but I'm still sleeping pretty well.
Best Moment of the Week: Finally getting in some more maternity clothing options. Minus the fact that the only pair of shorts left available on Old Navy were the 3 inch options. Yeah, my thighs are looking hot in those. NOT! And why are good capri jeans so freaking hard to find? Moving on...
Belly Button: Still flattish.
Labor Signs: Nope.
Movement: Not as much as earlier on...obviously I'm dying to hear the heartbeat again to make sure everything is still a-okay, but I'm trying to practice patience and faith here.
Food Craving: Sweets are making a comeback in smaller doses. Every now and then I get random cravings. Last night I just had to have cheetos and oreos. Yep, junk food here I come. Can we switch that to some healthy stuff baby? Please?
What I Miss: Honestly? I miss my pre-pregnant body. I'm very thankful for this pregnancy obviously, but let's just say being pregnant is not my favorite feeling in the world.
What I'm Looking Forward to: Same as last time...finding a new doctor and finding out the gender!
Don't forget to vote

(Poll is on top right of the side bar)

:)