For the month of October I've decided to join up with The Nester for her 31 Days project. Basically it's a commitment to post every day on a single topic. The topic I have chosen is ...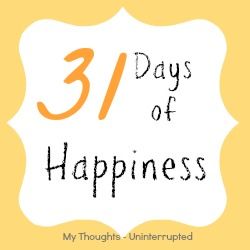 I'll be the first to admit that sometimes I get caught up in the "poor me's" when really most everything going on is perfectly wonderful. I'm hoping these 31 days will help me to find the simple happiness in everyday life.
Posting everyday is going to be a big challenge for me. I sometimes shut down creatively when I know I "have" to do something which is why I usually never commit to anything involving scheduled posts so we will see how this goes! Some posts may be long and wordy, some may be list style and some may just be pictures. Either way, I hope you enjoy and that we all can find happiness together!
Link up your own topic or find others to follow here.